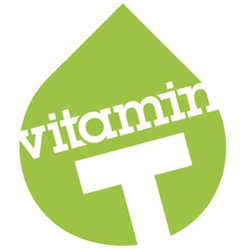 Los Angeles, CA (PRWEB) May 10, 2017
Vitamin T is pleased to be named on Forbes' list of Best Professional Recruiting Firms, a marked achievement for a specialty staffing division only 6 years in business. Vitamin T pairs creative digital talent with local companies and agencies across over 29 cities in 4 countries. Earning the 54th spot on a list of 250 professional search firms is a testament to Vitamin's T's growing prominence as an industry leader.
To compile its influential list of recruiting firms, Forbes teamed up with Statista, a leading internet analytics company. This third party surveyed thousands of employees, recruiters, and HR managers asking for their recommendations of up to ten recruiting firms (not including their own) who place employees in roles with less than $100,000 in annual income. They received 20,000 responses, and recruiting firms with the most recommendations were ranked on the list. Vitamin T earned a high spot in the top 250-ranking recruitment firms and was among the very few that specialize in creative or marketing staffing.
"With only 6 years in business, we're surprised and delighted to be included on Forbes' list of Best Professional Recruiting Firms," said Vitamin T president, Susie Hall. "We've worked hard to match the perfect digital creative talent to clients' business needs, so we're grateful to hear our effort is recognized by our customers!"
By their inclusion in the Forbes' best-of list, Hall is certain that Vitamin T can provide even more companies and agencies with innovative tools, resources, and creative staffing solutions.
To read the entire Forbes list of Best Professional Recruitment Firms, be sure to check out this link: https://www.forbes.com/best-professional-recruiting-firms/list/.
To learn more about how Vitamin T pairs the best creative talent with companies, feel free to get in contact with us at http://vitamintalent.com.
About Vitamin T
Vitamin T is the talent agency for digital creatives. We personally meet each of our candidates face-to-face and conduct hands-on assessments and full portfolio reviews to ensure our talents' skills are best in class. We provide subsidized medical, dental, and vision benefits, as well as a 401(k) plan—not to mention free online training through Aquent Gymnasium. And because we're local, you'll always have highly qualified candidates as fast as humanly possible. To learn more, please visit: https://vitamintalent.com.
Contact Details:
Tim Donnelly, Media Contact
Phone: 323.475.7372
Email: tdonnelly(at)vitamintalent(dot)com
Address:
Vitamin T
5670 Wilshire Blvd #1000
Los Angeles, CA 90036
Web: https://vitamintalent.com
Source: Vitamin T
###