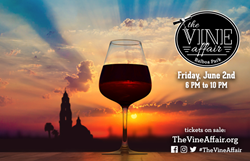 This event is the ultimate Date Night or Girls' Night Out. Or, surprise mom with a Mother's Day gift she'll never forget.
San Diego, CA (PRWEB) May 10, 2017
The time is ripe to purchase tickets to Balboa Park's newest event, The Vine Affair, a stylish celebration of wine, art, beer, artisan food and live entertainment. This can't-miss event is presented by the Balboa Park Cultural Partnership on Friday, June 2, 2017, 6:00-10:00 p.m.
A fine selection of tickets is on sale now at http://www.thevineaffair.org. Unlimited tasting—$65, VIP—$100, designated driver—$35.
This event is the ultimate Date Night or Girls' Night Out. Or, surprise mom with a Mother's Day gift she'll never forget. Attendees progress through five of Balboa Park's museums, each boasting a unique theme that encompasses the wine, beer, food, art and entertainment. The San Diego Art Institute's Eclectic theme will explore wine's place in popular culture, while The Balboa Park Conservancy, in conjunction with The Prado Restaurant, will honor Balboa Park's heritage with a Spanish themed tasting room. The San Diego History Center will celebrate the history and heritage of San Diego's Jewish Community, the San Diego Model Railroad Museum will swing into mid-century glamour and The Fleet Science Center will feature a British theme in honor of their current exhibition, Sherlock Holmes and the Clocktower Mystery.
Driving and parking can be difficult during peak times or during major events; be sure to consult our Traffic Alerts page prior to your visit. However, VIP ticket holders can enjoy 30% off rides to and from the Park from our preferred partner, Lyft.
Not taking the VIP route? There are many alternate ways to get to the Park, including walking, biking and public transportation. For information and custom transportation routes to Balboa Park, visit the MTS Website or dial 511. You'll be given the option of selecting transit routes that are: the fastest; have the fewest transfers; or have the least amount of walking.
For more information, visit our website http://www.thevineaffair.org, or follow us on Facebook https://www.facebook.com/TheVineAffair/, Twitter https://twitter.com/@The_Vine_Affair, & Instagram https://www.instagram.com/thevineaffair.
ABOUT BALBOA PARK CULTURAL PARTNERSHIP
Balboa Park Cultural Partnership is a nonprofit organization through which 30 arts, science and cultural institutions in Balboa Park collaborate to achieve shared goals. By helping these groups achieve greater organizational efficiency, innovation and excellence, it seeks to contribute to the vitality and sustainability of Balboa Park. For more information visit http://www.bpcp.org.