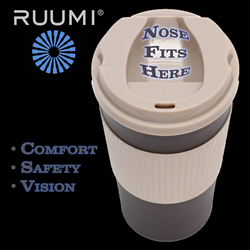 New cup design may render head tilting obsolete.
Bellevue, WA (PRWEB) May 10, 2017
SCAA Expo 2017 in Seattle was a great coffee event with fanciful displays of the latest trends in all things coffee, from beans and roasting techniques to brewing and accessories. Ruumi Cup met up with Dean (aka Espresso Patronus) from Ally Coffee, there representing CoffeeProps, to answer questions about Ruumi's intriguing new travel cup design. Spokeswoman Giselle and company founder Robert Polt presented the product, providing visual proof of how greatly this cup differs from conventional travel cups.
The video features a direct comparison between a regular to-go cup and Ruumi, with sipping from the regular cup requiring a substantial degree of head tilting because the lid is in the way. While Giselle assessed that head-tilting becomes necessary once people are about halfway through their beverage, Robert opined that tilting becomes necessary much earlier, just after they have consumed as little as 25% of their beverage. Indeed, different people may have different experiences depending on the length of their olfactory organ. However, both Giselle and Robert showed that Ruumi's unique design requires zero head-tilting from start to finish.
Driving safety and overall comfort were named as the biggest benefits of the cup. To support general comfort, Robert pointed out that drinking a cup of coffee from a standard to-go cup requires about twenty head tilts. Mathematically speaking, over the course of a year, this process adds up to many thousands of head tilts that could be avoided by use of Ruumi Cup.
The Ruumi team also went into design details of the lid. It is a little recognized fact that noses stand out a good distance from the face, which is why it has been difficult to design a lid that does not compress against the nose. Ruumi has created the very first deep lid, such that the bottom of the nose cavity is actually submerged in the beverage when the cup is full. However, it was pointed out that the carefully crafted cavity does not change the volume of the cup, which is touted as the design's biggest achievement.
First-time Ruumi users still have a tendency to tilt their heads back for the first few sips until their muscle memory adjusts and they realize that a tilt is no longer needed. Once the initial surprise is over, this can bring a striking sense of freedom, similar to taking a spill-proof open cup on the go.
More about Ruumi Cup can be found at http://ruumicup.com/.