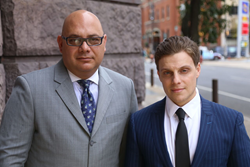 This is a great new direction for the firm, and we are eager to meet with potential clients and our current clients at our new location
(PRWEB) May 10, 2017
SKA LAW GROUP, LLC, opened a new location in Montgomery County, Pennsylvania. Another location for residents in Pennsylvania to meet with attorneys from the firm will make it easier for the lawyers at SKA LAW GROUP, LLC to provide knowledgeable and aggressive representation concerning all types of criminal matters. The lawyers at the firm extend their practice to Montgomery County, Pennsylvania, because many of their cases stem from Montgomery county; therefore, it would only make sense to have another location in Norristown, Pennsylvania. The address for the Montgomery County location is 33 E. Marshall Street First Floor Norristown, PA 19401.
The lawyers at SKA LAW GROUP, LLC practice in areas of DUI, theft charges, drug charges, assault cases, possession cases, burglary, robbery, endangering welfare of children charges, reckless endangering, and other types of criminal charges. The firm is comprised of criminal defense attorneys who have practiced criminal law for numerous years, and have the knowledge and understanding of the Pennsylvania justice system that one would certainly want from a criminal defense attorney.
Additionally, the firm will continue to be available for clients 24 hours a day 7 days a week. Lawyers at the firm can be reached by calling 267-265-4553. Attorney Michael Kotik said that individuals dealing with criminal matters should have access to lawyers at any time of day, and giving clients and non-clients another location to meet with us makes us even more accessible.
An SKA LAW GROUP, LLC presence in Montgomery county is well over due, especially since many of our clients have cases within the county, said attorney Michael Kotik, Esq.
"This is a great new direction for the firm, and we are eager to meet with potential clients and our current clients at our new location," said Kotik.
SKA LAW GROUP, LLC., lawyers are available 24 hours a day, 7 days a week. They can be reached by calling 267-265-4553; or 267-738-7766.