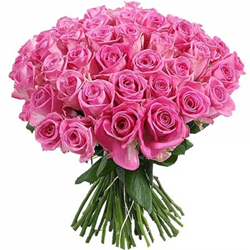 It's like black Friday, Saturday and Sunday for LA's flower industry – petalers here do 25 to 30 percent of their yearly business during the Mother's Day holiday -- Mark Chatoff, CFM President & Owner
Downtown Los Angeles' Flower District, California (PRWEB) May 10, 2017
California Flower Mall opens 24/7 Mother's Day weekend with last minute buds to show Mom's some love up to 70% off retail prices. CFM is the only Downtown Los Angeles wholesale flower market open around the clock Mother's Day weekend. It's paradise for procrastinators buying last minute bargain blooms for Mother's Day.
"It's like black Friday, Saturday and Sunday for LA's flower industry – petalers here do 25 to 30 percent of their yearly business during the Mother's Day holiday " says Mark Chatoff, CFM President. Mother's Day is second to the winter holidays in retail spending the National Retail Federation reports. 69% of shoppers plan to buy flowers this year. Spending on Mother's Day flowers is expected to reach $2.6 billion the NRF says.
"Admission is free so bring all the moms in your family to pick their own flowers from the freshest and best source for Mother's Day arrangements and bouquets at prices that look like you spent a fortune," says Vani Trogolo spokesperson for California Flower Mall. The 8 block Los Angeles Flower District neighborhood -- one of Los Angeles' most colorful, urban destinations, is lush with miles of flower market aisles and sidewalks blooming with millions of fresh flowers that dazzle the senses.
Trogolo shares these insider tips on how to shop for Mother's Day flower deals:

Arrive Early: Shop before 9 am or after 6 pm for the best deals, selection and parking. Farm shipments arrive around 4:30 am
Evening Stroll: Beat traffic and congestion visit after dinner Friday or Saturday
Bargain: Don't accept the first price offered. Negotiate -- it's an accepted business custom. Not every business sells wholesale to the public so shop around
Buy Big Bunches: Two or three bunches of the same flower look luxurious
Color Selection: Select the same color flower in different shades for a rich looking bouquet
Relax: If DIY is not your style or you're on a tight schedule, select a pre-made bouquet or arrangement
Bring Cash: An onsite ATM is available
Saturday or Sunday Lunch with Mom: Enjoy casual patio dining at CFM's QQ Café or Mexican Grille
Sunday Closeouts Savings: late Sunday prices drop to clear inventory, but selection maybe limited
"It's easy to express love for all the moms in your life without breaking the bank. Make a date to dazzle your mom, grandmother, sister and sweetheart on an urban adventure to pick flowers in LA's Flower District California Flower Mall. Trogolo adds, "We're here for you Happy Mother's Day -- Feliz Dia de las Madres!"
About California Flower Mall
California Flower Mall, http://www.californiaflowermall.com, located at 825 San Pedro Street and 824 San Julian Street, spanning a city block; it is one of the largest DIY wholesale flower marts in Downtown LA's eight block Flower District trade community. It is the only wholesale flower market open all night 24/7 Mother's Day weekend until 7 pm Sunday May 14, 2017. CFM is open to the trade and public, no entry fee or member badge is required. To inquire about flower availability and prices contact CFM vendors directly here: http://californiaflowermall.com/floor-map-vendor-directory/. Amenities include convenient onsite parking, an ATM, casual patio dining and tidy customer restrooms. LA's Flower District is the largest concentration of wholesale flower markets and flower businesses in the U.S. It is located in the 100 block LA Fashion District Business Improvement District.