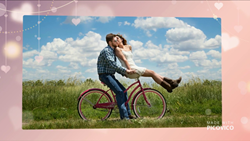 Ability to work with Video clips now makes Picovico an online video editor upto an extent, and this is going to be our major attraction point in the near future both among the personal and professional video makers.
Kathmandu, Nepal (PRWEB) May 13, 2017
Picovico, one of the most popular slideshow maker, has just announced the re-launch of their existing web app that provides rich control to the users for creating polished videos without requiring to do the heavy-lifting of video editing and production.
While technology has advanced with immense speed, even in 2017, video-making is a daunting task for most. People spend insane amount of time on the web watching videos and they also love capturing videos from their phone and camera. However, only a few are able to create watchable videos. So, with this upgraded re-launch, Picovico is introducing itself as a gift that can be played with, worked on and used as the users deem fit to create videos for both personal and professional needs.
Amit Agrawal, company's CEO, explained, "At the core, we have always just wanted to create a platform that can let every individual create videos with ease. We have always been adding features now and then to better the video making experience. And with the launch of our new web app, we are taking it to a whole new level".
Initiated in 2011, Picovico has already established itself as a reliable platform to convert photos into video slideshows, and the company is constantly adding different features to enhance the video making experience. The major upgrade on the new Picovico 3.0 is the addition of Video Clips.
"Ability to work with Video clips now makes Picovico an online video editor upto an extent, and this is going to be our major attraction point in the near future both among the personal and professional video makers", explained the company CEO.
Dhruba Adhikari, the company CTO added, "At first glance, video clips might seem like a simple addition of a new feature, but the technical aspect behind it hasn't exactly been straightforward. In order to achieve this new upgrade we increased our GPUs and re-engineered the video engine. After months of hardship by the Dev team, Picovico 3.0 now comes with smooth video rendering and improved content delivery. We have managed to roll out all the new features including video clips (which was the biggest hurdle of it all) at the same price as before. This, I feel, is an accomplishment in itself."
Along with video clips, other much needed features such as Multiple music and logo feature have also been added on the revamped Picovico.
The logo feature is targeted towards businesses who want to boost their branding through video advertisements. This seems to be a logical move on behalf of the company, as video contents continue to dominate the whole of social media.
Provision of Full HD (1080p) videos and introduction of the completely new Design layout are two other prioritized changes made on the Picovico 3.0.
The new Picovico now features a single page layout focusing more on to-the-point approach. It has a smooth mobile friendly UI compared to the previous one, since users find it easier to have everything on mobile.
The upgrade has been long time coming, but why now?
'Launch of the New App hasn't been done over night. In fact, we have been planning and working on it for almost a year now, considering feedback from every user.", explained Dhruba. He went on to add, "We have had our entire Picovico team digging through the support queries along with other market research to figure out what our customers wanted and needed. If you compare the videos made with previous web app and this new one, you will find that the New videos are livelier and more interactive. Also, the commercial version of our API with all new features is on its way."
One distinct attribute of Picovico is the variety of video themes they have which allows users to create videos with the use of different styles.
"There are plenty of different varieties to choose from as it is, but we are continuing to add more video styles on our already rich list of theme selection. 5 themes (Birthday Album, Birthday Flicker, Birthday Shimmer, The Wall and Timeline) have already been released with the new Picovico", revealed the company CTO.
"We understand that Facebook and Instagram have their own slideshow feature now, and we are not looking for any direct competition. But, if people try our platform to create slideshow videos with photos and video clips, I am sure they will come back for more.", added Amit.
Try the new Picovico 3.0 at app.picovico.com.
About Picovico: Picovico is an online video maker that allows you to turn your photos and video clips into high quality videos. Picovico aims to bring video making within the comfort of every internet user because people love to see and share videos but making one is still a demanding task. Making videos with Picovico is effortless and cost effective that helps you to deliver your message clearly - be it for professional use or personal use.
This Morpheus Ventures company was also a part of Startup Chile Program in 2012. Despite facing lots of challenges in Nepal, this app dares to rank among the finest products in the global industry.