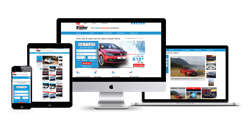 London, UK (PRWEB UK) 10 May 2017
Four years on from AutoTrader UK closing its magazine, AutoTrader South Africa is now exclusively online. The last edition of the magazine, published by AutoTrader South Africa, was printed on 30 March 2017 making AutoTrader cars a purely digital business.
AutoTrader South Africa, started in 1992, has closed down their printed magazine. The business had a printed magazine reach of over 842,000 readers per week. The closure of the magazine marks the move by AutoTrader to an exclusive online service offering.
The first printed edition of AutoTrader in South Africa was circulated in April 1992. The magazine was comprised of 24 pages and cost 50c. Over the 25 years of publication, there have been 1,247 editions produced in South Africa. The final publication that was printed on 30 March 2017. The last magazine comprised of 34 pages and cost R30.
AutoTrader.co.za was launched in October 1998 and receives 5 million visits (2,1m unique users) and has an online vehicle inventory of over 67 000 automobiles.
George Mienie, CEO of AutoTrader.co.za said, "We launched our magazine in 1992 and our website in 1998. It was in 2008 that we realised our magazine had a shelf-life. The internet was developing so fast, and the possibilities of what could be done online were so vast. In 2008 it was 95% magazine, by 2013 we hit the midway point. At the beginning of 2016 we thought we had another six months. It was only in January 2017 that the magazine finally became cost prohibitive, and we were able to make the call."
Mienie also said, "We want to offer our users total efficiency, empowering them as much as possible. That has to mean an ultimate goal of being able to conduct an entire sale, online, perfectly. We're not there yet, but we are a big step closer. For us, it's just a matter of time."
100% of the AutoTrader business worldwide is now focused on digital services. There is an average of 430000 cars listed on AutoTrader per day, there are 250 million average number of advert views per month on AutoTrader, and 80% of UK automotive retailers advertise on AutoTrader online.
ENDS