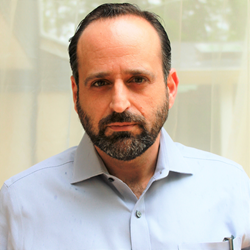 I wholeheartedly believe that the solution that Prifender is offering is the future of the privacy profession, and I want to be at the forefront of this emerging paradigm shift in the privacy field.
(PRWEB) May 11, 2017
Prifender is extremely pleased to announce that Sagi Leizerov, Ph.D, CIPP/US, has joined its management team as Chief Data Solutions Officer. Before joining Prifender, Sagi served as EY's Global Privacy Leader.
During his 16 years with EY, Sagi served Fortune 100 and Fortune 500 companies from industries ranging from financial services, pharmaceutical, technology, manufacturing and automotive. He is a frequent speaker in data-related conferences and his articles appear in business and professional publications.
As Prifender's Chief Data Solutions Officer, Sagi will work with our customers to maximize the capabilities of Prifender's technology in their technical environment and operational needs.
When asked about his decision to join Prifender, Sagi offered the following:
"I have been part of the privacy field since its infancy. I started in 1998 and saw this field move from a compliance based approach to risk management, and most recently the "accountability era" of privacy. These different eras in our young professions were all marked with good intention, but very little capability in enforcing rules, demonstrating compliance and backing up any claims of accountability. I wholeheartedly believe that the solution that Prifender is offering is the future of the privacy profession, and I want to be at the forefront of this emerging paradigm shift in the privacy field."
About Prifender:
Prifender is using artificial intelligence and forensic technology to map personal information across networks, both structured and unstructured, while associating identities with associated obligations so organizations can better manage personal information and demonstrate accountability and compliance. Prifender's mission is to drive automation of the privacy office while providing demonstrable compliance with privacy regulations, notices and contractual obligations. More about Prifender and the many use cases for its technology can be found at http://www.prifender.com