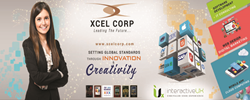 "We look forward to attending this event and showcasing our products and services to more than 3000 attendees including top legal professionals", Mr. Goel said
Matawan, New Jersey (PRWEB) May 11, 2017
XCEL Solutions Corp of Matawan, New Jersey will introduce its newly expanded range of services at the New Jersey State Bar Association's Annual Meeting and Convention to be held at Borgata Hotel Casino & Spa in Atlantic City, New Jersey between May 17th and 19th. The services, focused to provide enhanced and better user experience to our customers by utilizing cutting edge technologies, will be unveiled by XCEL's CEO, Jit Goel.
With over 15 years of experience in the IT industry, XCEL Corp is looking to revamp and increase its range of Information Technology services to better suit their customers today. While constantly achieving 100% organic growth, XCEL Corp's financial stability has allowed its leaders to implement its aggressive expansion strategies.
The new range of services includes Enterprise Mobility, Business Intelligence, Data Warehousing, Mobile and Web Application Development, and Cloud Migration in addition to already existing range of services." XCEL Corp is constantly updating its technology platforms with innovative technologies to deliver best quality solutions to our clients" said XCEL Corp's spokesperson.
The NJSBA event has been chosen for unveiling the services due to the lack of wider penetration of IT in the legal services industry. "For an industry which is incredibly professional labor intensive, there are only a few companies that provide customized technology related services for the legal services industry," says Mr. Goel speaking about the decision to unveil new services.
Our services will have special focus towards increasing the use of technology in the legal services industry. In an attempt to socialize and introduce our products and services to the legal professionals, XCEL Corp is excited to offer a Raffle Contest during the event where, the winners stand to win amazing and valuable prizes.
"We look forward to attending this event and showcasing our products and services to more than 3000 attendees including top legal professionals", Mr. Goel said. XCEL Solutions Corp is backed by a diverse workforce that brings the best talents from around the world to provide out of the box technology solutions at a competitive pricing rate.
About NJSBA:
The New Jersey State Bar Association is a regulatory professional body for attorneys in the State of New Jersey. The association conducts its annual meeting and convention to achieve a host of various objectives. This year's event would be held at the Borgata Hotel Casino & Spa in Atlantic City, New Jersey between May 17th and 19th. The event is expected to draw over 3000 attorneys from all across the state. http://www.njsba.com
About XCEL Corp
XCEL Solutions Corp of Matawan, New Jersey is a Global Leader in IT. The company caters to over 20 different industrial sectors including, but not limited to BFSI, Media, Telecommunications, Technology, Retail, and Energy and Utilities.
XCEL Corp follows Hybrid Service Delivery Model which allows incredible flexibility to manage client requirements of all sizes. Some of the solutions and services offered by XCEL Corp include IT Consulting, Professional Services, Managed IT services, Enterprise Software, Product Engineering, Big Data, and Mobility solutions.
Contact:
Obed Joshua
254 Highway 34
Matawan, NJ 07747 NJ
For reviews, feedback, inquires, comments and more, please contact XCEL Corp at
+1-732-765-9235
E-Mail: pr(at)xcelcorp(dot)com