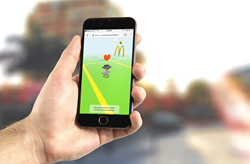 WebAR is a new platform that eliminates the pain of developing a complicated and expensive AR geolocation game from scratch. 80% of the core functionality has already been developed
(PRWEB) May 24, 2017
A location-based Augmented Reality platform developed by Emerging Media Artists allows companies to quickly come to market with multiplayer games. The new WebAR app is designed to streamline the launch of AR-style games onto various mobile devices.
"It's like Pokemon Go, but customized for your brand," says Creative Director of Emerging Media Artists, Scott Ownbey. Like the popular game, players can use a mobile device's GPS ability to locate, capture, battle, or train virtual characters. Unlike Pokemon Go, the characters can be fabricated from the brand's world or they can appear as a user-generated avatar within a branded world that mimics the same real-world location. The game can support multiplayer functionality that promotes physical activity and can dramatically increase foot traffic to business locations.
"Brands are facing unrelenting pressure to reach customers in innovative ways. Web-based Augmented Reality (WebAR) gaming is a way for brands to stay relevant and move at the speed of the consumer, keeping pace with their dynamic mindset," remarks Scott Ownbey. "WebAR is a new platform that eliminates the pain of developing a complicated and expensive AR geolocation game from scratch. 80% of the core functionality has already been developed, allowing companies to come to market faster with a more robust cost-effective option. The remaining 20% of development is for custom gameplay functionality, graphics and 3d assets."
WebAR is a web app rather than a native app, so it does not need to be approved by the app marketplace and it can be released at any time and in any form, per the client's preferences. This lowers the cost of app maintenance and app updating compared to more expensive native apps, especially if this app supports more than one mobile platform.
Emerging Media Artists is an Interactive Art Services Inc., (IAS) company which has over 16 years' experience in providing creative art services for the advertising and entertainment industries. With offices in London, Berlin, Fort Lauderdale, Chicago and Burbank, IAS uses the best tools and practices to provide exceptional outcomes for our clients.