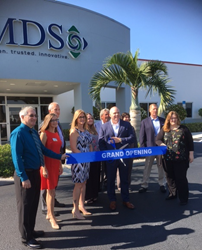 "This new call center will provide additional resources to maximize recovery efforts and collect additional revenue owed to our Clients, for services they have already provided; and do so, as quickly as possible, said Rick Masterson, President of MDS."
Vero Beach, FL (PRWEB) May 12, 2017
We are honored to announce that MDS celebrated the opening of their second call center in Melbourne, Florida on May 8 2017. This stand-alone facility encompasses over 17,000 square feet and will accommodate over 300+ seats and additional office space. The new location will produce many new job opportunities to Melbourne residents and surrounding communities.
MDS delivers an industry-leading, comprehensive suite of revenue cycle recovery solutions. Leveraging the power of 32 years of healthcare recovery work, a tenured team of professionals, and proprietary information technology, we offer the most adaptive, customizable, and comprehensive solution for self-pay and insurance recovery to the healthcare communities.
MDS is now hiring Account Recovery, Insurance and Research Specialists. These positions have the potential salary earnings of $32K – $55K within the first 12 months with an average of $60K+. Candidates must successfully pass a drug screening & background check, demonstrate the ability to accomplish daily targets/ monthly goals and work in a team environment.
Duties include contacting patients by phone and/or mail regarding their accounts and are responsible for ensuring collection of past due balances, answering patient account questions and assisting with setting up alternative payment plans when necessary. Maintaining patient account records, working with third party payer issues and rebilling insurance claims is required in the Insurance division.
MDS offers a competitive wage which includes vacation and health benefits to full time employees. The company also has offices in Vero Beach, FL; Sebring, FL and Gadsden, AL. Watch your local newspapers for upcoming job fairs, search MDS at http://www.careerbuilders.com or stop by one of our locations to complete an application.