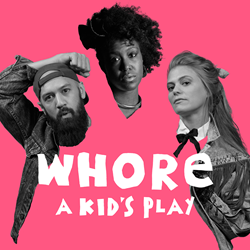 New York, New York (PRWEB) May 11, 2017
Squire Lane Theatrical announce Blonde's Matt Katz-Bohen will compose and music direct the Edinburgh Fringe Production of Reese Thompson's WHORE: A Kid's Play.
WHORE: A Kid's Play, a theatrical play, is a darkly funny account of the pressures to be both normal and exceptional in a world hostile to misfit girls and queer boys set against a backdrop of small-town gossip amplified by social media, limitless shame, and the hell-fire of the confession booth.
Kevin Michael Reed, producer of the show: "Reese Thompson's text provides for incredible opportunities to incorporate music and movement as a key component of storytelling, Matt Katz-Bohen's electro-pop musical aesthetic is a spot-on match for the text, bringing his own take on the digital and social media madness of the mid-2000s."
Matt Katz-Bohen has been the keyboard player & co-written songs for Blondie since 2008. He has toured with Boy George, Tony Bennett, Ashford and Simpson, Theophilus London, Psychic TV, Raja Gemini & Manila Luzon (RuPaul's Drag Race). He has received the SESAC Abe Olman Award for Songwriting and a TV Land Icon Award. More information can be found on his website: http://www.mattkatzbohen.com/
Producers Squire Lane Theatrical aim to capture real people in socially relevant stories with a passion for looking in on the lives of those not talked about, the situations that are hard to talk about, and the relationships that can't be talked about. As theatre-makers, as makers of media, they believe in a responsibility to open people's eyes to worlds that they have never been introduced to. Squire Lane Theatrical have taken to Indiegogo to co-fund the production: http://igg.me/at/SquireLaneEdFringe/
More information on the production can be found at: http://squirelane.co.uk/