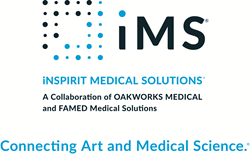 The goal of iMS goes way beyond product. Commitment to the services supporting the product will make the ownership experience extraordinary.
New Freedom, PA (PRWEB) May 11, 2017
Famed Medical Solutions – one of the largest European manufacturer of operating tables, ICU and delivery beds – and Oakworks Solutions – a U.S owned designer, manufacturer and distributor, whose mission is to Innovate Health and Wellness Within Your World – have partnered to bring medical equipment to the North American market. Supporting the product launch is the introduction of a new medical brand -iNSPIRIT Medical Solutions (iMS).
"The iNSPIRIT Medical Solutions (iMS) brand means to ENLIVEN, to MAKE WELL. We see "inspiriting" occurring every day – this is what occurs at that powerful intersect - as physicians and clinicians practice 'Medicine as an Art' and 'Medicine as a Science.' That intersect - that inspiriting - we felt represented exceptionally well the goal of our organizations and the goal of the products that we are bringing to North America. It's a powerful brand position that we hope will resonate with those we serve in the Medical and Wellness Fields," says Rich Shuman, President of Oakworks Solutions.
The brand encompasses six (6) product lines: Surgery Tables, Treatment Chairs, Gynecological/Urological Chairs, Hospital and ICU Beds, Patient Transport Stretchers, and Maternity Beds. When combined with Oakworks Medical - a market leader in Imaging and Pain Management Tables, Ultrasound Tables, and Physical Therapy Tables, Oakworks Solutions has become for their medical end customer (Hospitals, Surgery Centers, and Specialty Physician offices and Wellness Centers) a single source for patient positioning needs.
"Bringing Famed Medical Solutions and Oakworks Solutions together in this commercial endeavor, highlights the synergy between Famed products' technical solutions and engineering prowess, quality and artistic design and Oakworks Solutions' customer service excellence and strength in managing sales distribution to these markets. We are very pleased to be working with Famed to bring these 'market proven products' to North America," says Rich Shuman, President of Oakworks Solutions.
Rich Shuman further discussed the unique benefits for customers in the North American Medical Market that will come from this commercial arrangement, which encompasses Famed Medical Solutions, as well as, CSA Service Solutions, a nationwide technical service and professional solutions provider, with which they have developed a customer-centric service delivery model which is cost effective, efficient and fully scalable to the end customer need.
The goal of iMS goes way beyond product. Commitment to the services supporting the product will make the ownership experience extraordinary. Unforgettable, exceptional service beginning on the day the equipment is purchased, to the day of the equipment's eventual retirement. Beyond great looking product and functional design, CareLink Services, provided through CSA Service Solutions, will be the reason customers return to the iMS brand over and over.
"I am confident that this cooperation will be very beneficial for the both companies and our North American customers. On the one hand, our partner expands their portfolio by high quality and extremely reliable medical equipment. On the other hand, we enter the US market with a very experienced and dynamic partner. We have already experienced Oakworks' great support during a successful FDA registration process. And we see a very supportive national network of Dealers and Sales Personnel," says Tomasz Rycak, CEO of Famed.
About Famed Medical Solutions
Performing in the medical equipment business since 1947, Famed Medical Solutions remains one of the leading and most experienced manufacturers of high-quality medical equipment in Europe. The company specializes in manufacturing of hospital equipment including operating tables, Intensive Care Units beds, trolleys, delivery beds and examination chairs. Famed is committed to improving patient care and safety in Poland and in the world. Famed delivers its equipment to more than 80 countries in Asia, Africa, North America, and remains also a co-operator of foreign manufacturers.
Highly qualified staff, competitive production costs and a wide range of products' customization capabilities are the key strengths of the company in the rapidly growing medical industry.
About Oakworks
Oakworks Solutions: "Innovating Health and Wellness Within Your World"
Oakworks Solutions offers four unique brands; iNSPIRIT Medical Solutions, Oakworks Medical, Oakworks Spa, and Oakworks Massage. All brands are supported by the US-based customer service team, and product service solutions are offered world-wide to support the products offered. For more information, visit http://www.oakworks.com
Oakworks, Inc.:
Oakworks, Inc., is the manufacturer of equipment for the brands Oakworks Medical, Oakworks Spa, and Oakworks Massage. Since 1978, Oakworks, Inc. has been committed to providing safe, durable, comfortable, and ergonomic equipment to industries supporting the health and well-being of people all over the world. Oakworks mission and vision is to be the manufacturer that truly encompasses the equipment needs of all the professions within Integrative Healthcare and their clients: the physicians, surgeons, and technicians who require equipment designed to improve outcomes in fast paced environments with features such as radiolucency, powered functions, bariatric strength, and superior patient access. With over thirty years design and manufacturing experience and a 91,000 square foot state of the art facility located in Southern Pennsylvania, Oakworks is known for design innovation, sophisticated engineering, and quick turnaround time. Every table built in the modern manufacturing facility comes with the reliability that today's medical professional demands. Offering a unique commitment to U.S. manufacturing and environmental wellness, Oakworks is setting the global standard for medical, spa, and massage tables and accessories. For more information, visit http://www.oakworks.com