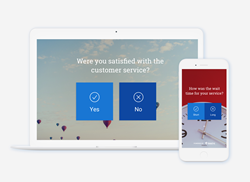 We took traditional customer surveys and the NPS model to a new level, reimagining the survey for Millennials. Simple. Attention-grabbing. In the moment.
(PRWEB) May 10, 2017
BirdEye, the leading customer experience and business reputation platform, today announced the launch of its next-generation customer surveys, which let businesses send surveys that customers actually want to respond to, and promote responses on third-party review sites.
The BirdEye platform's sophisticated yet simple customer survey software lets businesses easily design real-time surveys optimized to elicit high response rates for businesses of all sizes and types. Businesses can run surveys for customer experience, market research, employee engagement, and more. BirdEye lets businesses go traditional and send Net Promoter Score (NPS) surveys for specific areas like admissions, customer service, or checkout, and calculate promoters, detractors and passives. More powerful, and unique to BirdEye, are Millennial surveys: one question sent at one specific customer journey touchpoint. Concise surveys in pre-defined templates ensure customers are only asked questions that pertain to their individual experience, boosting completion rates.
"Hyper-connected customers have higher expectations, shorter attention spans, and want to do everything with just a few taps." said Ameya Virkar, VP Engineering. "We took traditional customer surveys and the NPS model to a new level, reimagining the survey for Millennials. Simple. Attention-grabbing. In the moment."
BirdEye's customer survey software features enterprise-grade functionality, such as "Skip" or "Display" logic to keep every question relevant, or the ability to create and organize question groups with a simple drag-and-drop interface. Another unprecedented feature is the ability to route promoters to third-party review sites to share their feedback publicly. With BirdEye, customer surveys can easily become customer driven marketing.
"Authentic customer voices are the most powerful advertisement. If a customer is taking your survey and says they had a great experience, that means they're happy and they're already engaged. What better time to ask them to review your business?" said Virkar.
BirdEye funnels all survey results into one platform for enterprise analytics and data visualization. To make sense of their scores, businesses can slice and dice reports by question, by location, and over time. This lets businesses not only spot trends as they emerge, but also refine surveys on-the-fly to improve response rates. To determine the "why" behind survey scores, the BirdEye platform runs Natural Language Processing (NLP) on survey responses so companies can pinpoint root cause of positive and negative sentiment. This way, management knows which department at which location to contact and make adjustments.
"Specific, real-time feedback from customers at different stages in the path to purchase provides valuable information to all departments," said Virkar. "To make improvements that really move the needle and provide consistently great experiences, the entire company needs to be in the loop. BirdEye's surveys let businesses understand every customer, structure every decision around the customer, and turn happy customers into brand advocates."
About BirdEye
The BirdEye platform lets businesses tap into the most powerful source of revenue: happy customers. Gather, analyze and act on customer feedback from social media, review sites and surveys about brands, locations products, and services -- in real-time, from one place. Access deep insights to understand exactly what customers like and dislike in order to solve problems instantly and improve operations. Whether you have one location or thousands, the BirdEye platform turns your customers into a marketing engine that accelerates positive word-of-mouth, boosts ratings, and increases revenue. BirdEye platform is trusted by 10,000+ businesses and prominent F1000 enterprises. BirdEye was founded in 2012 by Google, Yahoo, Amazon alumni and backed by Silicon Valley's who including Trinity Ventures, Salesforce founder Marc Benioff and Yahoo co-founder Jerry Yang.