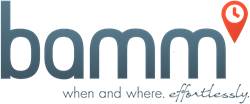 We are excited to support CAPE's education initiatives nationally and within Chicago Public Schools via BAMM!'s Travel Affinity Program.
Chicago, IL (PRWEB) May 11, 2017
BAMM!, the next-generation travel and meeting management platform, today announced with Chicago Arts Partnerships in Education (CAPE), an unique public-private partnership to drive giving for CAPE's programs reaching 3,500+ Chicago public school students each year. Using BAMM!'s unique web (http://www.getbamm.com), iOS and Android based platform, CAPE supporters travel for fun or business and a percentage of the proceeds go to fund CAPE.
"Today's political and economic climate is a call to action for the private sector to increase its role in charitable giving. We are tremendously excited to support CAPE's education initiatives nationally and within Chicago Public Schools via BAMM!'s Travel Affinity Program. The affinity program is easy to set up, and provides donors an alternate way of giving and supporting CAPE," said Kurt Johnson, CEO, BAMM!
"CAPE is grateful to BAMM! for its long-term commitment to helping Chicago's students have a robust education through the arts. This partnership is a win-win for our students, as well as for our donors, advocates, teacher, artists and friends who will be able to raise money for CAPE while travelling," said Amy Rasmussen, Executive Director of CAPE. She went on to say, "In addition to our annual contributions, we are sending students to the 2017 Allied Media Conference in Detroit, and are looking forward to this program helping us support the students, which is, for some, their first out of state trip!"
BAMM! helps non-profits grow their contributions through affinity programs, enterprises receive the best market pricing for travel, and busy individuals have the most productive meetings and travel possible. Integrations with Priceline and Uber ensure that nearly all aspects of personal and professional travel are enabled; integration with Uber Conference ensures that users can go virtual if necessary, and integration with Outlook and Gmail mean that users do not have to change behavior to reap BAMM!'s productivity benefits.
Companies and users can:

Book rental cars, hotels and air travel via the web, iPhone, or Android apps
Schedule and monitor meetings and events
Understand if people are going to be late, and reach out individually to participants, and instantly set up a conference bridge or easily reschedule
About BAMM! (Before and After Meeting Manager)
Founded in 2014 in Chicago, IL, BAMM! is the next generation travel and meeting management platform, and is uniquely positioned to offer affinity and travel programs to non-profits and enterprises. As a member of the Priceline Partnership Network, BAMM! has access to over 900,000 hotels worldwide, over 18 rental car brands in 180 countries, and 220+ airlines, and gets travelers where they need to be, at the best prices. BAMM!'s smart apps for Web, iPhone and Android take the stress out of meetings and meeting management and ensure that users are on time or able to be productive regardless of schedule changes. Integrations with Priceline, Uber, Uber Conference, Outlook, Gmail, combine with BAMM!'s proprietary AI to create an effortless travel and meeting experience. https://www.getbamm.com
About Chicago Arts Partnership in Education (CAPE)
CAPE engages students, inspires teachers, and demonstrates impact by weaving visual, digital, and performing arts into classrooms across Chicago. CAPE's unique approach to engaging students, inspiring teachers, and demonstrating impact relies on three strategies: Partnerships, Arts Integration, and Research. (a) Partnerships- To bring traditional subjects to life through the arts, we pair professional teaching artists with Chicago Public Schools teachers for long-term classroom partnerships and training. (b) Arts Integration- To spark students' passion for learning, we weave visual and digital art, music, theater, and dance into traditional subjects like science, math, history, and language arts. (c) Research- CAPE works with external researchers to determine the impact of our programs on students, teachers, and artists. This helps us refine our own work and that of our teaching teams and contribute new knowledge to the field. http://www.capechicago.org
BAMM! When and Where Effortlessly is a registered trademark of DESTN8,LLC. All other trademarks are the property of their respective owners.