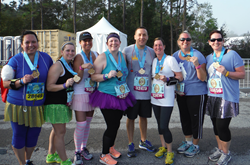 "My love for all things Disney is what originally made me want to participate in this. The fact that anyone, even non-runners, can participate is what encouraged me to finally sign up," says runner Shelley Walsh
Orlando, FL (PRWEB) May 11, 2017
For most people, planning a trip to Walt Disney World includes scheduling FastPasses for attractions, making restaurant reservations and relaxing by the pool.
While it can feel like a marathon to plan a Disney vacation, many Disney vacationers are now literally planning marathons as part of their trips.
Enter the world of Disney marathons. Of course, these events aren't like any other race you may have entered. These are Disney marathons, and they are colorful affairs featuring themes such as Star Wars, Pixar and yes, of course, Disney Princesses. Participants range from avid runners to beginners, and colorful costumes are encouraged.
"My love for all things Disney is what originally made me want to participate in this. The fact that anyone, even non-runners, can participate is what encouraged me to finally sign up," says runner Shelley Walsh, who has just completed the Disney Princess Half Marathon in Walt Disney World. "The fun themes, the cast member support and the attention to detail separates them from other races."
If you're worried about being out of shape, or looking silly in front of a group of seasoned athletes, don't be. In fact, Disney provides would-be participants with access to training programs from seasoned runner Jeff Galloway on the runDisney web site.
Later this year, Walt Disney World will host the Disney Wine & Dine Half Marathon, an event that times the race with the popular Epcot International Food & Wine Festival. Upcoming races for 2018 include the Disney Princess Half Marathon Weekend and the Star Wars Half Marathon - The Dark Side, both at the Walt Disney World Resort in Orlando, Florida.
Since the inaugural race in 1994, Disney marathons have grown from a little over 5,000 participants to over 55,000. Events are held in Walt Disney World, Disneyland Resort, Disneyland Paris and even on Disney Cruise Lines.
Some authorized Disney travel agencies, such as Mickey Vacations by Academy Travel, are offering runDisney vacation package that bundle race registration with a resort stay and tickets for Walt Disney World or Disneyland.
"This is a family friendly event," says Walsh. "Even if a member of your family decides they don't want to run, they can be there to support you."
For information on how to register for a Disney marathon, contact Mickey Vacations by Academy Travel at 609-978-0740 or by e-mail at anthony.academytravel(at)gmail.com.
___
On the web: http://www.mickeyvacations.com/rundisney/rundisney.htm
For more Disney travel news, visit The Kingdom Insider at http://thekingdominsider.com