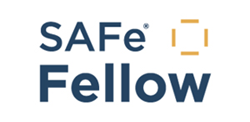 The SAFe Fellow program represents the ultimate achievement for those looking to advance Lean-Agile methods at enterprise scale with SAFe.
Boulder, Colorado (PRWEB) May 10, 2017
Scaled Agile, Inc. (SAI), provider of SAFe®, the world's leading framework for enterprise agility, today announced the induction of four new Fellows into the SAFe Fellow program: Mark Richards, Em Campbell-Pretty, Eric Willeke, and Harry Koehnemann, Ph.D. The SAFe Fellow achievement is Scaled Agile's most prestigious distinction, recognizing individuals who have exhibited the highest level of mastery and thought leadership in the practice of SAFe.
The four inductees have met the SAFe Fellow requirements based on their ongoing contribution to the evolution of the Framework, their demonstrated success in a broad range of implementations, and their willingness to share their expertise publicly through writing and speaking.
"The SAFe Fellow program represents the ultimate achievement for those looking to advance Lean-Agile methods at enterprise scale with SAFe," says Dean Leffingwell, creator of SAFe and Chief Methodologist. "If we are in a challenging situation—whether puzzling over the next generation framework or struggling to optimize a SAFe implementation—the Fellows are the folks we turn to."
Achieving SAFe Fellow status is a journey that requires years of practice and contribution. Prospective SAFe Fellows must be nominated by two existing Fellows, reviewed by all existing Fellows, and then finalized by the SAFe Fellow Nomination Committee.
"With over 70 percent of US Fortune 100 enterprises adopting SAFe practices, and nearly 120,000 individuals trained and certified, the demand for high-level expertise and thought leadership has been enormous," says Drew Jemilo, cofounder of Scaled Agile and SAFe Fellow Program Director. "The SAFe Fellow program is a key aspect of our enterprise enablement strategy, especially when it comes to supporting enterprises tackling highly complex and challenging implementations."
Scaled Agile is pleased to welcome the newest members of the program:
—Mark Richards, SPCT, Partner, Context Matters
Richards has been involved with SAFe since its inception, with a demonstrated commitment to remaining on the leading edge of the Agile Release Train (ART). He coached Australia's first SAFe implementation at Telstra and has enabled successful implementations across the federal government, telecommunications, finance, insurance, and education industries. A prolific blogger (The Art of SAFe), Richards is also the developer of the widely used SAFe City simulation and has contributed to a number of areas of the Framework, most recently in the areas of metrics for SAFe and the ART Canvas in the SAFe Implementation Roadmap.
—Em Campbell-Pretty, SPCT, Partner, Context Matters
International speaker, avid blogger (prettyagile.com), and author of the book, "Tribal Unity," Campbell-Pretty has led transformations for public and private companies like RMIT University, Westpac, the Australian Taxation Office, ANZ, and Telstra, where she launched Australia's first Agile Release Train. Her work has influenced the development of the Program Kanban system and fueled numerous SAFe case studies.
—Eric Willeke, SPCT, Advisor, Enterprise Agility, CA Technologies
A contributor to the Framework, Willeke has worked with a broad range of Fortune 500 companies, thousands of practitioners, and key leaders in the technology, media, insurance, financial services, and healthcare industries. His personal vision—to "help everybody on a project sleep better at night"—has shaped his passion for continuous improvement and unlocking human potential. Willeke has served on the program committee for the Agile 201x conference series and was the lead editor for the Proceedings of the Lean Software and Systems Conference (LSSC) series.
—Harry Koehnemann, Ph.D., SPCT, Director of Technology, 321 Gang, Inc.
Koehnemann helps organizations in the aerospace, defense, automotive, and medical industries adopt Lean-Agile methods and SAFe. He played a key role in the development of SAFe 4.0 for application to Lean systems engineering. More recently, Koehnemann worked with Scaled Agile on toolkits and white papers to provide practitioners with guidance on hardware and compliance concerns when adopting SAFe.
Learn more about the SAFe Fellow program at scaledagile.com/safe-fellows.
About Scaled Agile, Inc. (SAI)
Based in Boulder, Colorado, Scaled Agile's mission is to help system- and software-dependent enterprises achieve better outcomes, increase employee engagement, and improve business economics through adoption of Lean-Agile principles and practices based on the Scaled Agile Framework® (SAFe®). SAI supports over 120,000 practitioners of the Framework through training, certification, consulting services, and a global partner network that reaches over 35 countries and 350 cities. As a contributing member of the Pledge 1% corporate philanthropy movement, SAI also seeks to inspire, facilitate, and encourage other companies to make a positive impact in their community.
Learn about Scaled Agile, and the Scaled Agile Framework, at scaledagile.com and scaledagileframework.com.
Media Contact:
Regina Cleveland, Director of Communications
+1.720.477.1756
Regina.Cleveland(at)scaledagile.com