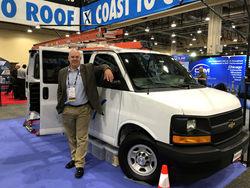 Tampa, Florida (PRWEB) May 10, 2017
With a continued dedication to company development and customer satisfaction, MaintenX International recently attended the Professional Retail Store Maintenance Association's (PRSM) 2017 National Conference in Dallas/Fort Worth in April.
Eleven MaintenX team members participated in educational breakout sessions on industry-related topics, committee meetings and special events. MaintenX also served as a silver sponsor for the conference and tradeshow, staffing a 20-foot booth at the PRSM2017 Exhibition, the industry's premier and largest trade show for retail facilities professionals.
"Every year, we continue to walk away from this conference with experiences and opportunities that are invaluable to our company," said Bill Schaphorst, the VP of Business Development at MaintenX International. "We spend time with current clients, talk to prospective clients and meet a lot of really great people. We always leave this conference with numerous new business leads as well as new relationships."
In addition to the immense networking potential for MaintenX team members, this national conference also gives the company the opportunity to meet and learn from others in the facilities industry.
"It's extremely valuable for us to be able to meet with our peers and talk about the issues that affect all of us," Schaphorst said. "There are some situations where we can find common ground and collaborate with each other to work together."
For more information about MaintenX, visit http://www.maintenx.com.
ABOUT MAINTENX INTERNATIONAL:
MaintenX International is a fully licensed, facilities repair company. As one of the largest national self-performing facility maintenance and repair companies in the U.S., MaintenX has created a wide network of knowledgeable and professional technicians throughout the country. With their team of well-trained technicians, MaintenX self-performs and manages facility maintenance for their clients. In the event there is not a MaintenX technician in an area, the company has established a network of preferred vendor partners throughout the country for continued superior service for their clients. For over 30 years, MaintenX has been expertly serving multi-location retail stores, restaurant chains and Fortune 500 companies nationwide.