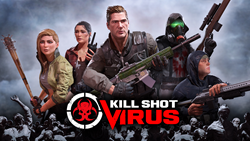 Kill Shot Virus might just be Hothead Games' most adrenaline-pumping and fear-inducing shooter game yet
Vancouver, British Columbia (PRWEB) May 11, 2017
The outbreak is here, and only you can stop it from spreading before it destroys all of humanity. Hothead Games, the developer and publisher of top-grossing shooter games on mobile, today announced the official launch of the most intense and action-packed zombie shooter game ever on mobile, Kill Shot Virus.
Now available on the App Store and Google Play for all iOS and Android devices, Kill Shot Virus might just be Hothead Games' most adrenaline-pumping and fear-inducing shooter game yet -- a big claim considering the Kill Shot franchise has been downloaded more than 75 million times to date.
Kill Shot Virus Development
"Kill Shot Virus is unlike any other zombie or shooter game ever created," said Vlad Ceraldi, Hothead Games' director of development. "We took everything we've learned about mobile shooters and combined it with the most intense, AAA-level graphics you'll ever see on your smartphone or tablet. The end result is simply incredible."
Kill Shot Virus is the first game in the Kill Shot series to use rag-doll physics, making the zombies tumble, whirl and fly when they are struck with high-powered shotguns and other apocolypse-beating weaponry. This delivers some hilarious results and plenty of flying zombies!
The attention to detail that has gone into the game's art development and the use of physically based rendering techniques shows in the dynamically-lit world environments and wonderfully hideous features of the zombies themselves. These techniques are key in creating an engaging, one-of-a-kind mobile zombie gaming experience that is sure to excite fans of the FPS genre as well as those new to mobile shooter games.
Kill Shot Virus - The Game
As survivors of a terrible zombie apocalypse, Kill Shot Virus players must save mankind by using an array of high-powered guns, sophisticated gear, and social gameplay. The game features the heart-racing First Person Shooter (FPS) action and detailed, hi-fidelity graphics that have become the franchise's trademark, while taking the genre up a notch by introducing more up-close and personal missions that are as frightening as they are challenging.
Also, new Urban Onslaught and Urban Pandemic event modes have been included to survive against hordes of the infected and powerful boss-like super zombies.
The game delivers exciting features such as:

Play through 100+ adrenaline-pumping first person shooter missions to prevent the spread of the zombie virus
Terrorize the Undead with a huge arsenal of Assault Rifles, Shotguns, Sniper Rifles and Machine Guns
Push the limits with stunning next-level graphics showcasing the zombie-infested chaos and infected city
Fight hordes of zombies including Screechers, Jumpers, Exploders and other horrible types of monstrosities
Get decked out with a wide variety of bad-ass gear to survive the zombie invasion
Create a survival faction and obliterate the undead together while competing against others for zombie thrashing glory.
Kill Shot Virus is the third title in Hothead Games' Kill Shot franchise. Launched in September 2014, the original Kill Shot deploys players on military hitman missions to target enemy bases in strategic locations around the world. Kill Shot Bravo was one of the first FPS games to add social gameplay such as Alliance Mode and Player-versus-Player Sniper Duel Mode when it launched in November 2015.
Availability
Kill Shot Virus can be downloaded for free from:
App Store: https://itunes.apple.com/us/app/kill-shot-virus/id1102593395?ls=1&mt=8
Google Play: https://play.google.com/store/apps/details?id=com.hotheadgames.google.free.zombie
A game trailer can be found at https://www.youtube.com/watch?v=3-vYskuKWD4
More details can be found at http://www.killshotvirus.com.
About Hothead Games
Hothead Games is one of Canada's largest independent game studios. Founded back in 2006, when our Hotheads barely had cold feet, our goal was nothing less than total world domination. We continue to strive for entertainment in all things, including our award-winning mobile game catalog, our company culture, and even this self-aggrandizing boilerplate that you're reading right now. For more information, visit http://www.hotheadgames.com.
©2017 Hothead Games Inc., Hothead, Kill Shot, Kill Shot Bravo and Kill Shot Virus are trademarks or registered trademarks of Hothead Games Inc., all rights reserved. All third party trademarks mentioned are the property of their respective owners.
# # #
Media Contact:
Matt McAllister
Fluid PR
(510) 229-9707
matt(at)fluidspeak(dot)com
Company Contact:
Oliver Birch
Hothead Games
media(at)hotheadgames(dot)com