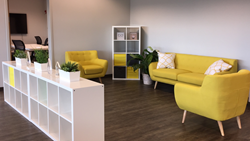 Paramus, New Jersey (PRWEB) May 16, 2017
For the past 4 years, Bergen County-based SmartSites has lived comfortably in Englewood Cliffs, NJ. A young company, they operated with an open-concept floor plan, which facilitated a collaborative working environment and overall optimal productivity. Churning out websites and performing SEO and PPC for a multitude of clients, SmartSites dipped their toes into a variety of industries. Client-focused has always been the approach with which SmartSites operated, but as the team continued to grow, and in-person meetings became more frequent, challenges arose. It therefore became necessary to uproot the team 10 miles away to Paramus, New Jersey.
Now at 45 Eisenhower Drive, SmartSites not only has more space for its employees, but also for its clients. Two conference rooms, 2,800 square feet of space, and ample windows avail the team with improved amenities. The SmartSites team no longer has to shout over one another in order to hear clients during conversations. Additionally, double booking current and prospective client meetings is no longer a worry. In this digital age, taking a personalized approach is more valuable than ever. With more meeting space, SmartSites is better able to provide for their clients and offer them the appropriate solutions in a more streamlined process. SmartSites has expertise in a variety of industries, and the additional space afforded by the new office supports expansion even further.
While the SmartSites team enjoys their own space, the new building also offers amenities to visitors. An on-site cafeteria is available for those looking to grab a bite to eat before or after a meeting. Additionally, 45 Eisenhower Drive is a mere 10 minutes from some of the biggest shopping centers in the country: The Garden State Plaza, The Bergen Mall, and the Paramus Park Mall. Easily accessible via Routes 4 and 17, SmartSites' relocated home is certainly an improvement.
As SmartSites continues to grow, the increased space will continue to show its value.The entire team is excited about this new chapter, and encourages all prospective and current clients to schedule their visit today! Call 201-870-6000 or email us at contact(at)smartsites.com