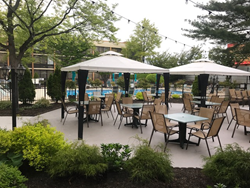 The Hotel often refers to the courtyard and pool area as their best kept secret.
Carle Place, NY (PRWEB) May 12, 2017
For those seeking a reprise from the ordinary when visiting Long Island, the Holiday Inn Westbury claims to have just what guests are looking for, especially when it comes to their outdoor garden courtyard and pool.
Each year in the early spring, the Holiday Inn Westbury transforms its outdoor courtyard and pool into a tranquil oasis. When the Hotel's General Manager, Franklin Manchester, first started with the Hotel three years ago, he quickly recognized that the Hotel's outdoor courtyard could be an amenity and area of the Hotel that its guests could really enjoy, and it was ultimately being underutilized by the Hotel as a true guest amenity and service. It became his goal to transform the courtyard into a picturesque setting, and he quickly began to get rid of some of the older plants, flowers, and shrubs that he says were a bit tired, overgrown, and gave the courtyard a corporate park-like feel.
His goal was to bring the courtyard to life, and make it really pop in the late spring, summer and early fall. He wanted the courtyard to have as much color as possible throughout the year, so he and the Hotel's maintenance team began bringing in various evergreens, perennial shrubs, plants, and flowers, and each spring they add a wide variety of annuals. Some of the annuals are not often found throughout Long Island, and many are in fact tropical in nature; however, Manchester believes that the Hotel's guests now thoroughly enjoy the area, and it has become an amenity that guests truly love.
Manchester stated the following, "I felt the courtyard and pool area was one of the best features the hotel has, but I knew it needed a lot of work to really have guests enjoy the area. Unfortunately, it was a bit neglected, but now it's one of the main areas of concentration for the Hotel's team, and a focal point for the Hotel's guests. All I really did was picture myself staying at the Hotel as a guest, and what I would like to see and feel. I grew up on Long Island in a modest house and neighborhood, but my mother always made sure the garden was beautiful. I remember how that made me feel, and I wanted to make sure that guests could experience that here with us when they allow us to be their host Hotel when visiting Long Island." Manchester said that he inherited a bit of a green thumb from his mother, and he visits a lot of the arboretums and gardens on Long Island for additional inspiration.
When looking at the Holiday Inn Westbury from the relatively busy road they're off of, it's a bit difficult to imagine the size of the Hotel, and it's even more difficult to imagine a beautiful garden courtyard, pool, and patio area set in the center of the Hotel, which is why the Hotel often refers to the courtyard and pool area as their best kept secret; however, that is something they want to change, but they know seeing is believing, so it's a slow process, and one that spreads by word-of-mouth.
Manchester says he anticipates the 2017 season being one of the best in regards to their guests' pool and courtyard experiences. He believes that with the Hotel's new restaurant, LiLLiES Restaurant and Bar, providing courtyard patio dining services, and with their new 24-hour Guest Lobby Market in place, guests will be able to not only enjoy their surroundings, but the added amenities and services that were not available in the past.
The Holiday Inn Westbury is located in central Nassau County, Long Island, and is in close proximity to many attractions, which includes, but is not limited to shopping malls, beaches, golf courses, museums, arboretums, Gold Coast mansions, sports complexes, and County and State parks. It provides guests with 152 rooms and suites, along with banquet and catering space. It's ideal for the corporate, social and leisure guests, and during the spring, summer, and fall, it's perfect for families. For more information, visit the Hotel's website at http://www.hiwestburyhotel.com. Take advantage of a special discount when booking your guest room by calling the Hotel's Reservations Department at 516-997-5000 and asking for the "Long Island Travel" discount to receive 15% OFF of their General Public Rates.