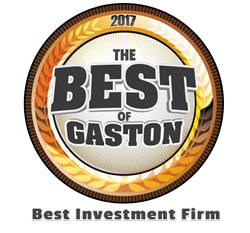 Belmont, NC (PRWEB) May 12, 2017
Belmont Capital Advisors is pleased to announce it has won "Best Investment Firm" in the 2017 The Best of Gaston Awards, as voted upon by the residents of Gaston County. In addition to taking home the title of "Best Investment Firm," Founder and Chief Investment Strategist JoePat Roop was nominated for "Best Financial Advisor/Planner" and agent Cory Shuford was nominated for "Best Insurance Agent."
"It was an honor just to be nominated, but we are especially excited to take the big award back to our new home at 123 North Main St.," says JoePat Roop. He continues, "We'd like to thank everyone who voted, as well as the community of Belmont and clients throughout the Greater Charlotte Area for their continued support. At Belmont Capital Advisors, we view clients as members of our extended family, so it's nice to know they feel the same way about us. We are incredibly honored to serve you and look forward to doing so for many more years to come."
In early 2017, Belmont Capital Advisors moved from its flagship location at 217 Glenway Street to the Historic District of Belmont, NC at 123 N. Main St. The move, which was necessary to accommodate the firm's growth, was a means to better serve the residents of Belmont. In addition to this location, Belmont Capital Advisors has convenient offices in Charlotte, NC and Kings Mountain, NC.
About Belmont Capital Advisors
Founded in 2009, Belmont Capital Advisors has grown as an independent firm with solutions ranging from wealth management to retirement planning. The advisors at Belmont Capital Advisors have a reputation for safeguarding, enhancing, and passing on a legacy of financial security built over a lifetime of hard work.
Belmont Capital Advisors seeks to offer sound advice and added peace of mind to its clients. As an independent company, it offers solutions to help clients through retirement. Rather than approaching the future with a one-size-fits-all approach, Belmont Capital Advisors works one-on-one with clients to assess their unique financial situation and provide the right tools to achieve the retirement its clients deserve. As a financial advisor with a legal fiduciary responsibility, BCA will always put its clients' best interest first.
For more information, visit http://www.belmont-capital.com/
Securities offered through Kalos Capital, Inc. and Investment Advisory Services offered through Kalos Management, Inc. both located at 11525 Park Woods Circle, Alpharetta, GA, 30005 (678)-356-1100. Belmont Capital Advisors, Inc. is not an affiliate or subsidiary of Kalos Capital, Inc. or Kalos Management, Inc.
# # #