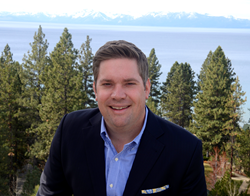 Denver, CO (PRWEB) May 16, 2017
Hyatt general managers Greg Leonard and Mark Stiebeling announce the appointment of Brian Lang as Director of Sales and Marketing at Hyatt Regency Denver at Colorado Convention Center and Grand Hyatt Denver.
Lang began his Hyatt career in 2004 as an Event Planning Manager at Hyatt Regency O'Hare to be quickly promoted just two years later to Associate Director of Events at the 1,096 room property. Lang moved to Hyatt Regency Jersey City on the Hudson as Director of Events in 2008. In 2010, he was appointed Director of Events at Hyatt Regency Lake Tahoe Resort, Spa and Casino, progressing to Director of Sales, Marketing and Events, a position he has held for the past two years.
Lang will now oversee a sales staff of 24 professionals representing the two award-winning hotels in downtown Denver: the 516-room Grand Hyatt Denver and the 1,100 room Hyatt Regency Denver at Colorado Convention Center. He leads the effort to provide meeting and convention booking ease for a combined total of more than 110,000 square feet of event space with 52,000 square feet at Grand Hyatt Denver and 60,600 at Hyatt Regency Denver.
The recently introduced Pick a Freebie Meeting Package allows planners confirming a qualifying meeting before December 31, 2017 at these downtown Denver Hyatts a choice of complimentary coffee for their conference breaks or free general session WiFi. (Meeting must take place before 12/31/18; restrictions apply.)
About Hyatt Hotels in Denver Downtown
Hyatt Hotels in Denver Downtown are comprised for two hotels in the heart of the Mile High City, located two blocks apart, one block on either side of the 16th Street Mall. Hyatt Regency Denver at Colorado Convention Center is one of the region's largest hotels. Towering 37 stories, sleek and contemporary in design, it offers Peaks Lounge on the 27th floor, known for its views of the Mile High City and surrounding Colorado mountains. Altitude Restaurant and Strata Bar are conveniently located on the lobby level. Grand Hyatt features Pub 17 on Welton Street capitalizing on the state's microbrew culture with its selection of over 35 craft beers, regionally sourced fare and western slope wines. Two of its five ballrooms are in the renowned 38th floor Pinnacle Club, overlooking the Rocky Mountain front range. Both hotels offer free guest room high-speed Internet access, state-of-the-art fitness facilities and a host of amenities that provide ease and comfort for their guests.
Reservations may be made by calling toll-free 800-233-1234 or by visiting the hotels' websites at denver.regency.hyatt.com or denver.grand.hyatt.com. To contact the sales department, call (303) 486-4400 or e-mail dencc.rfp(at)hyatt.com.
# # #