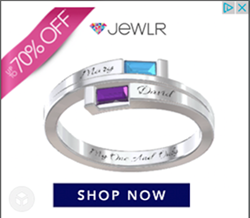 "We believe that 3D ad technology is the ultimate ad solution for the e-commerce store. Sketchfab has made it possible for us to show potential customers our products at their best and the results speak for themselves." - Tony Davis (CEO of JEWLR)
New York, NY (PRWEB) May 10, 2017
sketchfab.com releases a 3D advertising case study and pilot program.
One of Sketchfab's main goals has been to push the boundaries of 3D/VR, and we are constantly searching for innovative and disruptive applications for our technology. Recently, in partnership with JEWLR, an innovative online jewelry marketplace, Sketchfab has enabled the use of their 3D viewer in a series of banner advertisements.
This partnership proved to be a massive success, delivering a 147.66% ROAS (return on ad spend), a major increase over JEWLR's traditional banner advertising efforts, as well as improving the quality of their advertising traffic by decreasing their bounce rates by up to 53.38%.
To summarize these efforts and provide advertisers with a chance to test this disruptive technology, Sketchfab has released a case study along with a pilot program.
To see the case study and sign up for our pilot program visit: https://blog.sketchfab.com/3d-advertising-case-study-jewlr/
About Sketchfab:
Sketchfab is the world's largest platform to publish, share and discover 3D content online and in VR. Over 100M people have experienced 3D or VR from millions of scenes shared by our community.
Our technology integrates with every major 3D creation tool and publishing platform and supports almost every 3D format directly through our site or using one of our official exporters. Using our universal 3D & Virtual Reality player, your creations can be embedded on any web page and every major network including Facebook, Twitter, Tumblr, LinkedIn, WordPress, Bēhance, DeviantArt and Kickstarter.
Sketchfab is proud to be the official 3D publishing partner of Adobe Photoshop, Facebook, Twitter, Microsoft Hololens, Intel RealSense and more.
CONTACT INFORMATION:
Phillip Alexeev
http://sketchfab.com
phillip(at)sketchfab.com