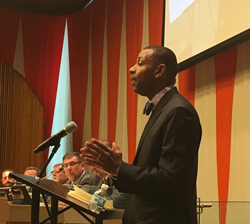 "Supporting the entrepreneurial spirit must be a central part of any plan that seeks to empower global citizens and ensure their prosperity." - Dr. Leo Chalupa, Vice President for Research, The George Washington University.
New York, New York (PRWEB) May 11, 2017
The International Council of Small Business (ICSB) and the Mission of Argentina to the UN today jointly hosted more than 250 people representing leading academic and business experts, policy makers, and practitioners from around the world at the first-ever Micro-, Small and Medium-sized Enterprises (MSME's) Knowledge Summit held at the United Nations. Speakers shared the latest trends and leading edge research, and debated best practices on a wide variety of enterprise-related topics to identify the most effective ways to drive mass entrepreneurship and create the jobs of the future, while achieving the UN Sustainable Development Goals aimed at reducing poverty and promoting prosperity.
Maria Luiza Ribeiro Viotti, Chef de Cabinet, opened the program by reading a statement on behalf of UN Secretary-General, António Guterres, who emphasized that, "Micro-, small and medium-sized enterprises represent around 90% of global economic activity. They are on the front lines of embracing transformative technologies and new business models."
Dr. Ayman El Tarabishy, Executive Director of the International Council of Small Business said his goal around the MSMEs Knowledge Summit was to, "promote action around the recently adopted UN resolution which recognizes the important role SME's play in promoting sustainable business worldwide. It is important to continue this global movement." ICSB is a nonpartisan not-for-profit organization that applies the intellectual and technological resources of its members.
Country ministers and dignitaries from Argentina, United States Small Business Administration, and Arab Republic of Egypt, came together to define long-term strategies and national policies needed to create the 600 million jobs the World Bank estimates will be needed to fulfil the growing workforce over the next 15 years. They widely recognized that leveling the playing field is vital to job creation and inclusive entrepreneurship must be promoted, particularly support for women owned businesses. MSME's currently account for up to 45 percent of total employment, and up to 33 percent of national income in emerging economies.
HE Mariano Mayer, National Secretary for Entrepreneurs and Small and Medium Enterprises for Argentina noted that the new Argentine Entrepreneurs Law promotes a regime for simplified companies to constitute an enterprise in 24 hours, fiscal benefits for those who invest in entrepreneurship, loans to launch new projects and mechanisms commonly used worldwide so Argentines may bet on Argentine ideas. "This administration has assumed the responsibility of supporting the Argentines with their ideas because we believe in its potential. As part of the National Productive Plan, we are eliminating obstacles, boosting innovation and improving access to financing for the creation of new companies," said Mayer.
Ambassador Martín Garcia Moritán, Permanent Representative of Argentina to the UN, commented that, "We hope that the establishment of June 27 as the Micro-, Small and Medium-sized Enterprises Day will help to raise public awareness of the important role they have in many areas of the 2030 Agenda for Sustainable Development."
During the program, Drs. Sargeant and El Tarabishy jointly announced that Facebook will be ICSB's founding partner for MSMEs International Day. In Argentina, almost half a million small businesses use Facebook to connect to their customers.
U.S. Small Business Administration (SBA) Administrator, Linda McMahon, delivered the keynote speech. "I'm honored to have the opportunity to discuss the SBA's role in helping small businesses launch and thrive. Exporting is an essential component of small business growth, and the SBA is here to help entrepreneurs discover new exporting opportunities, to expand into new markets, and compete in the global economy," said McMahon.
A brief video statement was delivered by Prince Constantijn Van Oranje, The Netherlands, in which he emphasized his hope that, "today's event helps to raise awareness of the relevance of these (MSMEs) firms and their importance in fostering entrepreneurship, because we need more entrepreneurs."
Minister "General" Erfan Gamaledin, Arab Republic of Egypt spoke about his country's new national strategy to promote small businesses in order to increase their contribution to GDP from 9% to 25%.
Speakers from academia highlighted various ways they are generating supportive pathways for entrepreneurs that ranged from virtual mentoring programs that help level the playing field by removing geography as a barrier to success to teaching an entrepreneurial mindset.
"Entrepreneurship is not a new idea. But it is an idea that is newly recognized as a force for positive change at home and around the world. Supporting the entrepreneurial spirit must be a central part of any plan that seeks to empower global citizens and ensure their prosperity," noted Dr. Leo Chalupa, Vice President for Research, The George Washington University.
MSMEs are pursuing international trade to access and supply foreign markets and, while trade growth globally is slowing, digital trade is growing. SMEs participate significantly in these online transactions, with approximately 25% of total online sales and 33% of online purchases being made by these enterprises. The Internet has created new business models and generated the development of some of the world's most innovative companies that are providing goods and services to consumers in entirely new ways.
During the business panel discussion, Michele Bongiovanni, CEO, of for-profit social impact company HealRWorld, presented her firm's innovative new digital E-commerce and micro-investment community platform currently under development. It will allow sustainable MSMEs to showcase their mission, commitments to sustainable practices, products and services to help drive sales.
Ki-Chan Kim, Immediate Past President, ICSB, Korea, further noted that, "ICSB will continue discussions with all stakeholders at the 62nd ICSB World Conference in Buenos Aires starting June 27, the First Annual UN MSME Day, to bring about the transformative change and sustainable economic development through the MSME sector."
Founded in 1955, the International Council for Small Business (ICSB) was the first international membership organization to promote the growth and development of small businesses worldwide. The organization brings together educators, researchers, policy-makers and practitioners from around the world to share knowledge and expertise in their respective fields. The ICSB is a non-profit organization, for more information visit http://www.icsb.org.