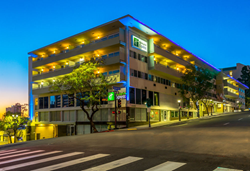 Lever 3 Construction has been awarded the renovation of the Holiday Inn Express Downtown San Diego.
San Diego, CA (PRWEB) May 12, 2017
In Downtown San Diego across from the historic El Cortez on Ash and 7th sits The Holiday Inn Express Downtown San Diego, owned and operated by Narven Enterprises. From the corridors and guestrooms to the new elevator enclosures and 13 room expansion, this hotel will receive a complete makeover to match its updated exterior renovation completed in 2016. This project was awarded to Level 3 Construction and scheduled to be completed by summer.
Level 3 Construction with its team of expert tradesmen will enclose two exterior elevators in new shafts (stucco exterior, TPO roof) and construct structural elements (for elevator guides/tracks, hoist system, etc.) for new elevator cabs. 131 guest rooms and 3 corridors will be renovated as part of a huge project that includes demolition of existing finishes (guest rooms & corridors), installing tile flooring in bathrooms, new carpet tiles, and new WVC at the guestrooms & corridors. Existing office space and oversized suites will be replaced with 13 new guestrooms bring the key-count to 144.
All doors and frames, valances, and bathroom ceilings will be painted. The company will supply and install glass shower doors, new under counter sinks with faucets and p-traps, and MPL surrounds. Installing bathroom base cabinet and vanity top, 104 tub to shower conversions, illuminated bathroom mirrors, and bathroom occupancy sensors are also part of this massive renovation project.
Ian Mahon, President and CEO at Level 3 Construction Shares, "We are excited to kick off our new relationship with Narven Enterprise on this project. This is our 49th hotel renovation to date and we look forward to delivering another smooth and successful project."
Want to know more about Level 3 Construction and its past and current projects? Visit http://www.level3construction.com
About Us
Founded in 2006 by President and CEO Ian Mahon, Level 3 Construction, located in Carlsbad, California, is known for being a leader in hospitality renovation and construction with a growing presence in multifamily, restaurants, office and T.I.'s. Our project experience ranges from small interior renovations and tenant improvements to multi-million dollar ground up hotel and restaurant construction and renovations. Level 3 collaborates with developers, owners, architects and property owners to implement the most efficient and cost-effective solutions that will reinvigorate a property. Level 3 Construction continues to grow its portfolio of work through quality performance and on-time completion of projects. To learn more about Level 3 Construction's services, contact John Gonzalez at 760-448-5456 or by email.