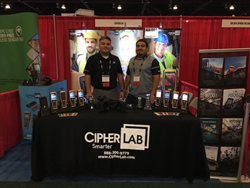 CipherLab' s RS50 is built with the most reliable Wi-Fi and LTE connections to provide constant connection to corporate systems for instant notifications of assignments, route instructions and other daily responsibilities.
Plano, TX (PRWEB) May 10, 2017
CipherLab, a global leader in the design, manufacture, and marketing of Automatic Identification and Data Capture/Collection products and systems, will exhibit its 1862 Bluetooth UHF RFID handheld reader and RS50 Android touch computer with NFC in Booth #830H at RFID Journal LIVE! from May 9-11, 2017 at the Phoenix Convention Center, in Phoenix, AZ.
CipherLab 1862 UHF RFID handheld reader has a long reading range of 16.5 ft. which makes data collection easier from the ground. Users can also easily reach and collect data from hard to reach locations. On top of that, the data collection process is made simple with the ability to read manifold and various EPC Gen 2 (ISO 18000-6C) tags at one shot. CipherLab's 1860 series' high performance RFID technology makes applications such as asset management and item level tagging quick and easy.
"The deployment of RFID technologies has been picking up in environments such as warehouse operation, logistics, manufacturing, and retailing industries. UHF RFID systems are getting more attention due to the benefits it could generate and the improvement that has been made. We aim to fulfil as many needs and expand our products to better serve our customers." commented by Luis Wu, Vice President and General Manager of CipherLab USA.
CipherLab's RS50 Android Touch Computer is fully equipped with a 1D/2D barcode reader with the comprehensive abilities to capture data in milliseconds even if the barcode is poorly printed. Users can enjoy the easy capture of high-resolution photos, videos, and signature capture with RS50's 8MP camera for proof of delivery and service. Additionally, it has HF RFID (13.4 MHz) capabilities while supporting contactless NFC applications of peer-to-peer mode and card emulation. As NFC automates the identity verification process, our versatile data collection solution easily streamlines your operations.
For more details and specifications regarding CipherLab products, please send an email to NASales(at)cipherlab.com or contact our office at 888-300-9779.
About CipherLab
CipherLab is a global leader in the design, manufacture, and marketing of Automatic Identification and Data Capture/Collection products and systems. The company's mobile computers and scanners are integrated into the networks of some of the world's best known logistics, retail, distribution, government installations and healthcare companies, helping them run more efficiently and effectively onsite and on the road. CipherLab USA is headquartered in Plano, TX. For more information, please visit http://www.cipherlab.com or like us at http://www.facebook.com/CipherlabUsa.