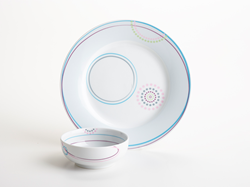 Nikki Massie, a post-op patient and the BariatricFoodie.com, says "One reason I'm excited about the Just Right Set—It's portion control that's just right for us. Thank you, Livliga!"
Boulder, Colorado (PRWEB) May 12, 2017
In an effort to make healthy eating an enjoyable, pleasurable, and stylish experience for those committed to embracing a healthy lifestyle at all stages in a person's life, leading lifestyle brand, Livliga, is proud to introduce its newest dinnerware line, Just Right Set™ bariatric. Based on the company's patented VisualQ's philosophy, the 2-piece set will help redefine the portion control category by taking the guesswork out of "right-sized" eating, for those needing unique portion sizes, especially after bariatric surgery.
The Just Right Set is the latest healthy lifestyle offering from Livliga. It is a beautiful 2-piece dish set in the Aveq pattern. This unique ensemble has been specifically designed for those who need bariatric portion dishes pre and post bariatric procedure or surgery. It is not too big and is not too small; it is Just Right, for those who need to be mindful of what they eat. The serving sizes designed into the bowl are ¼ cup and ½ cup. The plate has icons for ½ cup, ¾ cup and 2 tablespoons. The same Livliga patented and science-based artistic design is embedded in the Just Right Set™ bariatric. When the right amount is served up in these dishes it looks plentiful to your eye, allowing your mind and body to feel satisfied as you enjoy your food. This 2pc set is designed to be used and enjoyed at every meal.
The Aveq pattern is a contemporary design that is both whimsical and inspiring. With its flower-like design of circles and dots it uplifts the spirit and makes each meal more joyful and enjoyable. The colors used in the porcelain pieces remind us of a wildflower meadow next to a clear blue stream. Alive with color yet serene in its effect. Additional items included in this line are a serving bowl, a wine glass and a beverage glass. All Aveq products are designed to go with all dinnerware patterns offered by Livliga.
"At the very first conference we ever attended when we launched Livliga we received so many requests from bariatric post-ops who were looking for a beautiful, high-quality dish set that would be sized 'just right' for their needs," said Founder and CEO of Livliga, Sheila Kemper Dietrich. "It became very apparent to us that there was a real need for a long term healthy lifestyle solution for this community. We knew it was important for Livliga to address this need and that is why we are so proud to introduce the Just Right Set™ bariatric. We have already received overwhelming, enthusiastic support for this innovative, consumer requested product."
For one such post-op, Nikki Massie, the BariatricFoodie.com, she says "Portioning food on regular dishes is tricky for bariatric patients. It always seems like too much! But it's still important for us to be able to visualize a healthy portion size so we can make good choices. That's one reason I'm excited about the Just Right Set. It's portion control that's just right for us. Thank you, Livliga!"
Livliga believes that developing healthy eating habits can be a fulfilling and enjoyable experience, without having to sacrifice great tasting meals. As a result, the brand offers dinnerware, serveware and glassware that subtly guides users in eating well-balanced meals with appropriate serving sizes. With the help of its VisualQs philosophy, which states that our bodies and minds seek visual cues to help us determine how much food we consume in one sitting, Livliga products use strategic shapes and symbols to help users practice portion control, with ease, and feel fuller with right-sized and now "just-right" portions. The Just Right Set™ bariatric, like all other Livliga products, uses the psychology of eating to promote healthier lifestyles.
The Just Right Set™ bariatric is sold in 2-piece sets, and is available for $24.95. Livliga's complete product offering can be purchased at LivligaHome.com.