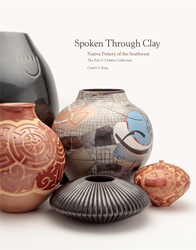 Combining the strength of tradition with the adventure of a changing art form is the essence of the collection.
Santa Fe, New Mexico (PRWEB) May 16, 2017
Eric S. Dobkin, called the "father" of the modern-day initial public offering of stock, shares his acclaimed personal collection of Native American pottery for the first time in a new book published by the Museum of New Mexico Press. Spoken Through Clay: Native Pottery of the Southwest showcases nearly three hundred pottery vessels from the collection, covering a wide range of contemporary artists and important historic pieces.
"Combining the strength of tradition with the adventure of a changing art form is the essence of the collection," says Dobkin. More than a catalogue of the collection, this publication "is an expression of friendships and love of the clay…celebrating the artists who are the icons of this movement and presenting a portrait of their heritage."
Dobkin's interest in Native pottery began two decades ago when he joined the board of directors of Santa Fe's School for Advanced Research, an institution advancing innovative social science and promoting Native American creativity. His introduction to artists and their pottery led him to begin collecting important pieces and commissioning others that would be among the largest pots ever produced by the artists.
The book includes portraits and voices of the mostly Pueblo Indian artists speaking about their artistry and technique, families, culture, and traditions. Many of the artists are connected by pueblos and many are heirs of a family tradition spanning generations. Dynamic color photography captures the depth and dimension of the pieces, while the artists provide an illuminating perspective through narrative captions. Artists, academics, collectors, family members, and gallerists add additional insight about the lives, historical context, and importance of these potters and their work.
Spoken Through Clay: Native Pottery of the Southwest will be launched during Santa Fe Indian Market, the largest and most prestigious juried Native arts show in the world, in August 2017. A book signing for authors and artists will take place at the merchandise booth of Indian Market's sponsor, the Southwest Association of Indian Arts (SWAIA), with other tie-in events planned. SPOKEN THROUGH CLAY: 352 pp, 320 color plates, 40 artist portraits ($125).
FEATURED ARTISTS
Grace Medicine Flower • Dextra Quotskuyva • Autumn Borts-Medlock • Jody Naranjo • Harrison Begay Jr. • Jordan Roller • Sara Fina Tafoya • Lonnie Vigil • Margaret Tafoya • Steve Lucas • LuAnn Tafoya • Loren Ami • Toni Roller • Popovi Da • Linda Tafoya-Sanchez • Mark Tahbo • James Ebelacker • Yvonne Lucas • Jeff Roller • Lisa Holt • Harlan Reano • Nampeyo • Jacquie Stevens • Nathan Youngblood • Jacob Koopee Jr. • Jennifer Moquino • Christopher Youngblood • Maria Martinez • Tony Da • Tammy Garcia • Virgil Ortiz • Joseph Lonewolf • Johnathan Naranjo • Nancy Youngblood • Les Namingha • Russell Sanchez • Christine McHorse • Richard Zane Smith • Rondina Huma • Susan Folwell • Dominique Toya • Jody Folwell
ABOUT THE AUTHORS
Eric S. Dobkin was a long serving partner and managing director of Goldman Sachs spanning a 49-year career at the firm. He has served on numerous corporate and philanthropic boards and is a trustee of the Dobkin Family Foundation. Eric and his wife Barbara reside in Pound Ridge and Manhattan, New York.
Charles S. King is the author of Born of Fire: The Life and Pottery of Margaret Tafoya, The Life and Art of Tony Da, Virgil Ortiz: Revolt 1680/2180, and numerous articles on Pueblo pottery. He has served on boards of art associations, judged pottery at prestigious events, and lectures about the art form. His business King Galleries represents many of today's leading Native potters and important historic works in clay. Charles lives in Scottsdale, Arizona.
ABOUT THE PUBLISHER
Founded in 1954, the Museum of New Mexico press is an award-winning publisher of finely designed and crafted books that reflect the collections of the Museum of New Mexico and books that explore cultures of the southwest and beyond.
Media Contact and for Advance Copies:
Lisa Neal
575 635 5658
mnmp(dot)marketing(at)state(dot)nm(dot)us
Publishing Contact:
Anna Gallegos, Director
Museum of New Mexico Press
PO Box 2087
Santa Fe, New Mexico 87504
505 476 1160
anna(dot)gallegos(at)state(dot)nm(dot)us