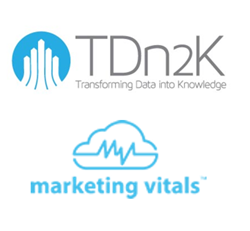 We are excited to bring this integration to the best in class companies as a new competitive advantage. Wallace Doolin, Chairman and Founder of TDn2K.
Dallas, TX (PRWEB) May 11, 2017
Marketing Vitals, the award-winning restaurant intelligence solution and TDn2K's Black Box Intelligence™, the restaurant industry's leading financial capital analytics firm, have announced a collaborative partnership to increase the understanding, value and influence of big data, as it pertains to the service industry.
"We are proud to partner with TDn2K™ on the Black Box Intelligence integration that will further educate and enhance restaurants and the customer experience," said Rom Krupp, CEO of Marketing Vitals.
Through this partnership, marketers and restaurant companies will gain a better understanding of their units' performance through a more enriched and robust data set. Black Box Intelligence™ users will gain enhanced automation and new KPIs, and Marketing Vitals' customers will have the ability to benchmark their sales and traffic performance against their competitive sets across the industry. The two brands' expanded data collection and analysis capabilities will enhance the data offering of each company and provide more value for TDn2K members and Marketing Vitals' customers.
"When Marketing Vitals was introduced to us, the comment was made that 'if Marketing Vitals and TDn2K, as best in class solutions could integrate data, it would be a marketer's dream!' We are excited to bring this integration to the best in class companies as a new competitive advantage," said Wallace Doolin, Chairman and Founder of TDn2K.
The partnership of Marketing Vitals and Black Box Intelligence will illuminate big data's influence on ROI for the restaurant and service industry. Through the collaboration and the expanded network it produces, big data and its insights will be brought into full view for the members and customers of both organizations.
About Marketing Vitals
Marketing Vitals is an award-winning innovative company that offers a game changing analytics software for restaurants of all shapes and sizes. Their software enables restaurant owners, consultants, and the C-suite of national and international franchises to pinpoint what's working in their organization and what isn't. It provides analysis and enables optimal functioning of everything from employee performance to menu items to seasonal specials. Serving nearly 100 brands worldwide, Marketing Vitals has received four prestigious BIG awards from the Business Intelligence Group and received the SOC 2 Type II Attestation Report which verifies their internal controls and processes through an independent audit based on AICPA's Trust Services Principles. For more info, please visit: http://www.MarketingVitals.com
About TDn2K
TDn2K™ (Transforming Data into Knowledge) is the parent company of People Report™, Black Box Intelligence™ and White Box Social Intelligence™. People Report provides service-sector human capital and workforce analytics for its members on a monthly basis. Black Box Intelligence provides weekly financial and market level data for the restaurant industry. White Box Social Intelligence delivers consumer insights and reveals online brand health. TDn2K membership represents 38,000 restaurant units, 2.3 million employees, and $67 billion in sales. They are also the producers of leading restaurant industry events including the Global Best Practices Conference held annually each January in Dallas, Texas.