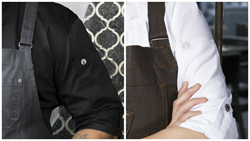 San Diego, CA (PRWEB) May 12, 2017
Chef Works, a global leader in culinary uniform design and development, heads to Chicago for the National Restaurant Association Show to debut their highly anticipated expansion of their Urban Collection™, a fashion-forward line of apparel and accessories. Focused on front-of-house and waitstaff offerings including shirts, aprons, vests, and ties, Chef Works continues to lead the culinary uniform industry by example, providing fashion forward uniforms to over 70 countries through a variety of global partners and distribution channels.
URBAN COLLECTION: FRONT OF HOUSE & WAITSTAFF EXPANSION
Chef Works debuted their groundbreaking Urban Collection in 2013 to instant acclaim. In a time when culinary professionals were looking to infuse personal style and fashion trends into their uniforms, Chef Works unrolled a contemporary collection that immediately garnered support from top chefs including Rick Bayless and Dominique Crenn. With small-batch additions released each year, 2017 marks the largest product expansion of the Urban Collection, with nearly 250 new products set to debut at the National Restaurant Association Show. While chefs and kitchen staff have been well represented in recent years, designers chose to focus on front-of-house staff this year, who have previously been relegated to ill-fitting shapes, drab colors, and limited options. New products include slim-fit shirts, shortened aprons, and fashion-forward pants, creating a trend-setting wardrobe for culinarians across multiple fields.
Giving chefs the freedom to express themselves in the kitchen with a uniform choice that matches their personality, Chef Works is rolling out the Berkeley Apron collection, a fully customizable apron that includes snap on suspenders in a range of on-trend colors and patterns. This innovative design removes the traditional neck strap in favor of a cross back strap, redistributing weight and increasing comfort, workability and longevity. Chef Works continues to push the boundaries in wardrobe development, launching ten new coat styles in addition to the new aprons and work wear that expands upon and introduces new colors and fits into their already substantial lineup.
CHEF WORKS AT THE NATIONAL RESTAURANT ASSOCIATION SHOW
As one of the most influential uniform exhibitors, Chef Works is returning to the show for the 22nd consecutive year, cementing their status as a dynamic, solution-based entity in the culinary industry. The pop-up shop-style set allows visitors to interact with new products, test firsthand the innovations and advancements made over the past year, and network with Chef Works senior leadership. Hosting multiple events and an invite-only after party, Chef Works has become one of the most sought after participants at the show, using the conference as a vital time to engage with culinary professionals, industry partners and visitors alike consistently moving the brand forward while promoting new products and announcing exciting developments.
Visitors can get their first look at this year's product launch and visit Chef Works at booth #1119.
ABOUT CHEF WORKS
Established in 1964 when Joseph Gross founded a small uniform company in South Africa, Chef Works has evolved into a global force as a solutions based company, supplying culinary apparel to over seventy countries. Chef Works dresses back of house and front of house staffs for a diverse range of customers including, international hotel chains, award-winning restaurants and bars, culinary schools, food service companies, laundries, and assisted living facilities. Headquartered in San Diego, California, the family-operated corporation has helped pave the way for the current culinary uniform movement by working directly with chefs and culinary personnel to develop innovative, fashion-forward garments. For more information, visit chefworks.com, follow us on Facebook, Instagram, and Twitter.