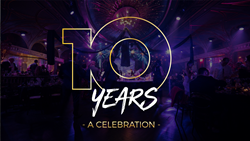 We cater to Hispanics who fall within multiple levels of acculturation, from generations 1.5 and above, and we have a strong commitment to our audience
LOS ANGELES, CA (PRWEB) May 11, 2017
LATV Networks, home of LATV and American Latino Syndication, held a very successful Upfront Presentation on Wednesday, May 10th in New York City at the Diamond Horseshoe.
The event, celebrating the network's tenth anniversary, was headlined by LATV's Vice President of Network Sales & Integrated Marketing, Andres Rincon, Director of Sales, Gisella Fu-Ripp, Chief Operating Officer and Head of Programming, Luca Bentivoglio, and many of LATV's on air talent, presenting to an audience of over 200 industry leaders in advertising, highlights and brand new features.
The show kicked off with a bang, with an exciting music video parody starring Rincon and Fu-Ripp doing their best Pitbull and Christina Aguilera impersonations LATV's version of "Feel the Moment."
The presentation highlighted LATV's landmark tenth anniversary, its remarkable growth and evolution in the last decade (a total market approach that celebrates the network's bi-cultural audience), the continued success of American Latino and LatiNation, new partnerships, new platforms, as well as a look at several of highly-anticipated new original productions.
Andres Rincon reiterated the Network's strategy for the last 10 years "We cater to Hispanics who fall within multiple levels of acculturation, from generations 1.5 and above, and we have a strong commitment to our audience, producing top-notch content that is not only relevant, but also speaks directly to Ambicultural Latinos." Rincon added, "Our audience is the 200%'ers – youth who are 100% American and 100% Latino and they move seamlessly between their two cultures. It is our goal to use all platforms and resources to connect with the new generation of Latinos and their biculturalism, regardless of language."
Some of the new programming highlights included:
Get It Girl - an all-girl millennial talk show standing for female empowerment and highlighting progressive ideas through candid discussions, personal experiences and relationships.
Chronic Tacos – A reality show with the star of MTV's Jackass,Wee Man Jason Acuna, dealing with the insanity of running a taco franchise.
Ceasar and Chuy - An animated comedy series featuring a pair of wacky friends who comment on the latest news, trends and viral videos.
Three new content partnerships were announced during the evening, including:
mitú A weekly TV compilation show with the best videos from mitú, the digital media powerhouse that brings a Latino point of view to mainstream entertainment across multiple platforms.
People en Español - This exciting collaboration will give LATV total access to People's celebrity programing as well as exclusive look behind the scenes of their monthly cover shoot.
Armida y la Flaka - The entertaining and outgoing hosts of one of the most popular Entravision's radio shows in the U.S. bring their unique perspective on current events, celebrity gossip and a special connection to the Latino community.
D LOOK: About LATV:
LATV is the only remaining Latino-owned TV network in the Hispanic television space. Its programming primarily targets U.S.-born Latinos and the coveted bi-cultural 18-49 Latino demographic, with content that features a originally produced shows in Los Angeles. For more go to http://www.LATV.com
# # #
Media Contact:
Arturo Garcia
agarcia(at)LATV.com
310-943-5288 ext 770