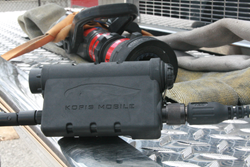 From force protection to covert intelligence operations, our ERSA product with its long-range, low-SWaP and jamming-hardened design will have many spin-off uses for novel IoT needs in the SOF community. - Hugh Middleton, Chief Customer Success Officer
Tampa, FL (PRWEB) May 15, 2017
Kopis Mobile announces they will be conducting demonstrations of their latest product at the 2017 SOFIC (Special Operations Forces Industry Conference) in Tampa, FL from May 15-18. Environmental Reachback Situational Awareness (ERSA) is a long-range Internet of Things (IoT) communication system that enables CBRNE sensors to send real-time readings to provide situational awareness to incident commanders and HAZMAT team leaders. ERSA also has GPS capability so both sensor readings and locations are transmitted to a predetermined operations center. This new product and others will be showcased at the show.
For more information, visit Kopis Mobile at booth #454 at the Special Operations Forces Industry Conference (SOFIC), or check out the company's website at http://www.kopismobile.com
About Kopis Mobile: Kopis Mobile specializes in designing and manufacturing custom apps and app-enabled electronics, backed with a thorough understanding of current threats to military and law enforcement operations. Kopis Mobile has driven the creation of multiple custom apps and app-enabled electronics equipment for the Department of Defense, law enforcement and private security markets since 2013.
A former Naval Special Warfare Operator and a group of talented engineers founded Kopis Mobile with in-depth knowledge of tactical operations, mobile devices, electronics, software and mechanical engineering. The founders all share a focused vision of enabling technology that directly impacts the warfighter and first responder on the ground by making them more efficient in a cost-effective way.