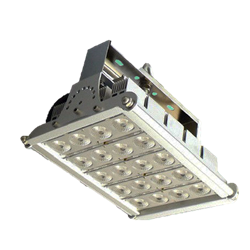 100W-400W LED High Bay / Flood Light designed to work in environments up to 190F
Nashua, NH (PRWEB) May 15, 2017
MyLEDLightingGuide is proud to announce its new family of LED High Temperature Rated LED High Bays that are ETL Listed and backed with a 5 year warranty.
"We now offer a new family of 4 LED High Bay / Flood Light Fixtures that are able to work in extreme temperature conditions, up to 190F or 88C" says Dwayne Kula, president of MyLEDLightingGuide.com. "This has been an issue in the LED space - finding a product that is rated and designed to work in extreme heat conditions. Most LED products are rated to work up to 50C or 122F. We now have an Industrial LED Fixture that can work in these extreme heat environments and can replaced a typical 400W or 1000W Metal Halide High Bay or Flood Light. We have several mounting options available that allows for ceiling, wall or pole mounting requirements.
This is another example how MyLEDLightingGuide provides real solutions for real world problems. lf you are a factory or facility that wanted to convert over to LED but had heat issues, you now have a real solution to this problem.
Guiding consumers towards more energy efficient high quality products is the main goal at MyLEDLightingGuide, along with pre and post sales support. It is achieved by providing the consumer a superior product when it comes to LED lighting solutions. With the new High Temperature rated LED High Bay, we are able to bring to market a product that solves a heat problem in some facilities.
About Us
It is the primary goal at MyLEDLightingGuide.com to help the commercial customers save energy and money by using safe, efficient LED lighting for their facilities. Our goals is to educate the customer with real information about LED Lighting and show them how to convert from their older style lights over to LED. Click here for more information on our LED High Temperature LED High Bay / Flood Light