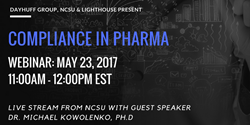 Columbus, OH (PRWEB) May 11, 2017
Dayhuff Group, a premier IBM partner, Lighthouse Computer Services and North Carolina State University have partnered to present a webinar focused on the future of artificial intelligence in the pharmaceutical industry. 
Dayhuff Group has worked alongside IBM for over a decade implementing solutions that enhance the signal detection process and correct compliance oversights. Today, Dayhuff Group is leveraging the power of Artificial Intelligence within IBM Watson Explorer to exploit the information contained in structured and unstructured data, quality control reports, product impact assessments, clinical trials, ingredients and more.
Dayhuff Group, Lighthouse and NCSU invite you to join the discussion and learn more as we edge closer to the future of the pharmaceutical industry and the quality and speed that AI can bring to the digital structure of each enterprise.
The guest speaker, Dr. Michael Kowolenko, Director of the Institute of Next Generation Computing, is an Industry Fellow in the Center of Innovation Management Studies, and Research Professor in the Department of Computer Science at North Carolina State University. Before joining NCSU, Kowolenko was a senior executive in Wyeth's Biotechnology and Vaccine Division. In this webinar, he will share pharmaceutical industry insights as well as thoughts on the future of pharma as IBM Watson Explorer becomes more relevant and necessary for industry growth. 
"Combine data with artificial intelligence in order to justify operation in a state of control."
One of the many challenges faced by the pharmaceutical industry is to demonstrate compliance with the multitude of regulations that touch on all aspects of business. The ability to demonstrate control and to act proactively to address issues is the hallmark of a well-run organization that places patient safety first. Many systems have been employed by these companies to aggregate data. The fusion of both structured and unstructured data through Watson creates a valuable tool necessary to assess the wide array of information that is generated in the development and post market surveillance in order to remain compliant as required by the various regulatory agencies. 
Watch the live stream on May 23, 2017 from 11:00am EST - 12:00pm EST. http://www.dayhuffgroup.com/may23
Dayhuff Group is a premier IBM partner. Dayhuff Group's industry solutions help solve today's increasingly complex business challenges by providing deep expertise in the Artificial Intelligence of Watson Explorer for use in the pharmaceutical industry.