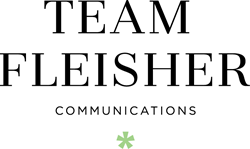 We work very hard to tailor our communication initiatives to the goals and objectives of each individual client, and to be recognized in four different categories is a testament to the exceptional results Team Fleisher delivers.
Columbus, Ohio (PRWEB) May 12, 2017
Team Fleisher Communications is pleased to announce recognition by the Central Ohio chapter of the Public Relations Society of America (PRSA) as this year's winner of four prestigious PRism awards. This marks the fourth consecutive year that Team Fleisher has won multiple awards for exceptional public relations (PR) activities. Team Fleisher was honored in four categories for work on behalf of four clients. These included:

Corporate Social Responsibility-Choice Recovery, client
Public Affairs Campaign, Non-profit Organization-Disability Rights Ohio, client
Community Relations Campaign, Non-profit Organization-Eastway Behavioral Healthcare, client
Presentation-Henry Schein Animal Health, client
"We are so honored that PRSA recognizes the value we provide as we develop strategies and implement programs for our varied group of clients," said Team Fleisher founder Marcy Fleisher. "We work very hard to tailor our communication initiatives to the goals and objectives of each individual client, and to be recognized in four different categories is a testament to the exceptional results Team Fleisher delivers. Our continued success is truly a team effort, underscored by the outstanding client partnerships we establish."
Team Fleisher's work with Choice Recovery, a Columbus-based collection agency, focused on the company's unique [re]start program, which helps those unemployed and in debt find new jobs. Team Fleisher created case studies as a part of this initiative, wrote new web content, secured impactful earned media and developed Choice Recovery's Better Business Bureau's 2016 Torch Award submission, which the company went on to win.
Disability Rights Ohio (DRO) asked Team Fleisher to create a strategy to help the organization effectively communicate with its key stakeholders on the progress of a controversial class action lawsuit filed March 2016 against the state of Ohio. Filed on behalf of individuals with developmental disabilities, the suit alleged that disabled Ohioans are trapped in institutions or are at risk of institutionalization because of the state's illegal service system. DRO's engagement with Team Fleisher included extensive research, and planning and execution over a sustained period of time. The media coverage Team Fleisher secured for DRO was extensive, including more than 20 positive placements in print and online publications, as well as television outlets.
Eastway Behavioral Healthcare turned to Team Fleisher when the organization began offering expanded support and services to the families of Franklin County. At the time, Eastway was largely unknown in the area, and Team Fleisher understood the importance of a strong community relations campaign. Media outreach resulted in impactful earned media across multiple mediums. Eastway's principals, who had rarely dealt with the media after a negative experience more than a decade ago, responded with excitement and enthusiasm, and selected Team Fleisher as their PR agency of record for a second year.
Henry Schein Animal Health (HSAH) is one of the largest providers of veterinary products, technology solutions and animal services in the country. Each year, the company hosts a Vet Summit for several hundred clients who want to learn how HSAH's technology, products and solutions can help solve practice management challenges and make their practices more profitable. The President's presentation is a highlight of the Vet Summit, with 90 minutes allotted to address the attendees. HSAH's president knew he needed an impactful, compelling presentation in order to keep his audience fully engaged. He worked with Team Fleisher to create a multi-media presentation that included interesting slides, videos and a real time survey. The result was the most creative presentation HSAH's leader had ever delivered.
Team Fleisher, along with other award recipients, was recognized at the 2017 PRism Awards dinner held at The Columbus Anthenaeum on Thursday, May 11.
Tweet This: @teamfleisher wins record number of #PRism awards from @PRSAcentralOhio.
About Team Fleisher Communications
Team Fleisher Communications delivers outstanding communications solutions based upon decades of experience. We have a proven track record of securing results for organizations ranging from start-ups to Fortune 500 companies. As senior-level communicators and former journalists, we understand how to tell stories, pitch reporters, secure earned media and leverage coverage. We work fast and efficiently to get the job done right. And we deliver results – always. For more information visit Teamfleisher.com.