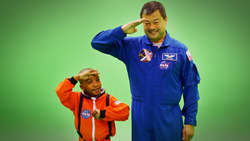 Virtual reality is inherently built for wishes and dreams, and this is a great example of VR making something possible that was previously unattainable.
Atlanta, Georgia (PRWEB) May 10, 2017
TRICK 3D today unveiled a behind-the-scenes look at how the 3D animation and VR studio team granted the first-ever virtual reality wish in partnership with Make-A-Wish Georgia, Dobbins Air Force Base, OneOrbit and UP TV. Inspired by the imaginative wish of one seven-year-old Georgia native, Zayden Wright, TRICK 3D produced a VR short that takes the young astronaut on a fantastical expedition to outer space – all based on Zayden's own creative vision. Drawing from more than a decade of storytelling, world-building and filmmaking experience, including the no. 1 hit animated special, "An Elf's Story," Chad Eikhoff directed the "Zayden's Wish" VR experience alongside a studio team of producers, developers and artists.
"This wish is huge, and it could only come from a brain like Zayden's, which is so imaginative and inspiring," said Eikhoff. "Virtual reality is inherently built for wishes and dreams, and this is a great example of VR making something possible that was previously unattainable. For us at TRICK 3D, building a world and experience for such a meaningful use at such a high level of production is 100 percent why we create."
Small Boy; Big Imagination
"Zayden's Wish" began with the young boy himself and his out-of-this-world ask. Over the past seven years, young Zayden has had to endure more than 40 heart procedures. Yet, Zayden's congenital heart disease doesn't stop him from playing, reading and imagining, and it was his imagination that conceived of going to Saturn. Zayden shared this vision of his expedition with his Mom, LaShonda Wright, and that is where his space journey began.
Granting an Impossible Wish
Entertainment industry veterans and "Zayden's Wish" executive producers Candice Alger and Veronica Sheehan, in partnership with Craig Heyl of Pinewood Atlanta Studios, conceived that virtual reality could be harnessed to grant wishes, and the three shared the concept with Make-A-Wish Georgia CEO Tim Earley. From there, the idea launched into motion and a team of volunteers dubbed "Zayden's Squadron" formed, tapping TRICK 3D to bring Zayden's space expedition to life using VR.
Virtually Possible and Truly Magical
The creative vision for the wish was set by Zayden himself. The seven-year-old laid out, in vivid detail, how his rocket ship is red, the stars are countless, and how he encounters friendly green aliens who greet him with the sound of "Bee Bo!" Pulling from this creative direction, Director Chad Eikhoff and the entire "Zayden's Wish" production team, set to work building the boy's imaginative virtual world.
"The TRICK 3D team pushed the limits of Unreal Engine 4 and other leading tools to generate a cinematic look for the wish," remarked Eikhoff. "As the first VR wish, much of what our team had to tackle had not been done before, so we had to create new processes to make this happen; we're incredibly proud of the results and reactions it inspired in our astronaut. In particular, with BeeBo the Alien, bringing an animated character to life in a way that feels like you met him and want to hug him – it's just awesome, and it required combining cinematic animation techniques with the latest game engine technology to generate that desired effect."
Blast Off
Zayden Wright boarded his VR rocket ship on May 1, 2017 and "blasted off" from Dobbins Air Force Base in Marietta, Ga. to much fanfare from more than 40 U.S. Air Force air men and women, family, friends and volunteers. He was guided by former NASA astronaut Commander LeRoy Chiao along his journey. The on-site "Zayden's Wish" VR experience took place using the HTC Vive virtual reality headset. Zayden and his family will be able to experience his wish again and again with a take-home version on the Samsung Gear VR headset.
To learn more about Zayden's Wish and Make-A-Wish Georgia, visit Georgia.Wish.Org. For more on TRICK 3D, go to TRICK3D.com or follow on Twitter @TRICK3D.