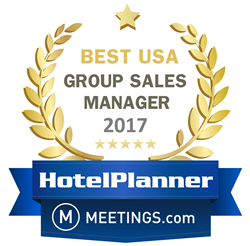 We want to recognize the top sales managers by giving them a badge of excellence in group travel. Their great attention to detail, dependability, and excellent sales skills makes them star players in the industry
West Palm Beach, FL (PRWEB) May 11, 2017
HotelPlanner and Meetings.com, the leading online providers of group bookings for hotels and meeting space, today announced the top 100 group sales managers in the U.S., recognizing those who experience continued success in both managing and booking group travel YOY. In celebration of this year's National Travel & Tourism Week's theme "Faces of Travel," HotelPlanner and Meetings.com are helping to shine a spotlight on those individuals who have had an enormous impact on the U.S. travel industry. The top performing sales managers were selected based on a combination of factors including outstanding customer service, the most competitive rates, and fast response times.
Tim Hentschel, CEO of HotelPlanner and Meetings.com said, "We want to recognize the top sales managers by giving them a badge of excellence in group travel. Their great attention to detail, dependability, and excellent sales skills makes them star players in the industry."
The top 100 U.S. group sales managers include:
U.S. – Northeast:
Best Western Plus BWI Airport Hotel/Arundel Mill, MD- Tina Comma
Best Western Plus Philadelphia Convention Center, Days Inn Philadelphia Convention Center, and Four Points by Sheraton Philadelphia City Center, PA- Kevin Cushing
Best Western Plus The Inn At King Of Prussia, PA- Katrina Richardson
Boston Park Plaza, MA- Heather Schell, Linda Rindos, David Berkoski, Vanessa Kuo, Alexander Goldstein, and Francisco Martinez
Comfort Inn Oxon Hill, MD- Shelley Peterson
Comfort Inn at the Park, PA- Debbie Toomey
Comfort Suites Hummelstown Hershey, PA- Joseph Jupoli
Embassy Suites Philadelphia Center City, PA- Robert Hilton
Holiday Inn Alexandria at Carlyle, VA- Deifilia Meneses
Holiday Inn Express Philadelphia Penns Landing, PA- Gloria Mari
Holiday Inn Inner Harbor, MD- Judy Wilbur
Hotel RL Baltimore Inner Harbor, MD- Brandon Halstead
Hyatt Place Baltimore/Inner Harbor, MD- Amy O'Connell
Hyatt Place Boston Braintree, MA- Camille Murgo
Hyatt Place Washington DC/National Mall, DC- Gilanie Bohulano
Lancaster Host Resort & Conference Center, PA- Kathy Danz
Loews Philadelphia Hotel, PA- Sabrina Haney
Red Lion Hotel Harrisburg Hershey, PA- Brenda Ryneski
Residence Inn Pittsburgh Monroeville, PA- Skip Phillips
SpringHill Suites Annapolis, MD- Emily Mcauley
The Kitano Hotel New York, NY- Tania Lavandeira
The Liberty Hotel, MA- Peter Campisani, Jennifer Morelli, and Rebecca Lyons
The Normandy Hotel, DC- Arnelda Broadaway
Omni Providence Hotel, RI- Krista Sarasin
Omni William Penn, PA- Carly Furlough and Randy Connolly
One Washington Circle Hotel, DC- Elizabeth Simmons
Park Lane Hotel, NY- Laura Ortiz
Wingate by Wyndham Lancaster/PA Dutch Country, PA- Eric Corneilson
Wyndham Grand Pittsburgh Downtown, PA- Michaela Morgan and Mary Jo Germaine
Wyndham Philadelphia Historic District, PA- Mizetta Hopkins
U.S. – South:
Ashton Inn & Suites Pensacola, FL- Ron Harper
Best Western Palm Beach Lakes, FL- Richard Netzel
Best Western Plus Cypress Creek, MS- San Naqvi
Best Western Plus Hotel & Conference Center Dallas, TX- Roy Fisher
Comfort Suites Huntersville, NC- Monisha Patel
Country Inn & Suites, TN- Ron Harrell
Country Inn & Suites DFW Airport South Irving, TX- Teresa Dehnel
Crowne Plaza Atlanta Midtown, GA- Bill Spicer
Crowne Plaza Greenville, SC- Lauren Bobo
Crowne Plaza Memphis Downtown, TN- Kelsie Cain
Crowne Plaza Tampa Westshore, FL- Sharon Haley
Embassy Suites Downtown Fort Worth, TX- Laura Renfro
Hampton Inn Dallas North, TX- Ruth Gallenberg
Hilton Garden Inn New Orleans Convention Center, LA- Artemus Anderson
Holiday Inn Charlotte University, NC- Deborah Slivensky
Holiday Inn Downtown Superdome, LA- Amber Cashio
Holiday Inn Express & Suites Atlanta Downtown, GA- Sharon Johnston
Holiday Inn Nashville Vanderbilt, TN- Nancy Keiser
Hyatt Place West Palm Beach/Downtown, FL- Todd Stone
L'auberge Casino Resort Lake Charles, LA- Olga West
Millennium Maxwell House Hotel, TN- Amy Allen and Carol Cochran
Rodeway Inn & Suites Ft. Lauderdale Air & Cruise, FL- Nadine Bankley
Seychelles and Tidewater Beach Resorts by Wyndham Vacation Rentals, FL- Joyce Danser
Shephard's Beach Resort, FL- Cody Peer
Sheraton Atlanta Hotel, GA- Lynn Caldwell
Sheraton Sand Key Resort, FL- Monica Santiago
SpringHill Suites Tampa Westshore Airport, FL- Kimberly Merilus
Tampa Marriott Westshore, FL- Bonnie Dominguez
Westgate Resorts Wild Bear Inn, River Terrace, and Smoky Mountain Resort & Spa, TN- Chris Brown
Wingate by Wyndham Charlotte I 77/Tyvola, NC- Tim Jones
Wyndham Garden Dallas North, TX- Will Tibbets
U.S. – Midwest:
Cambria Chicago Magnificent Mile, IL- Caramarie Keith
Comfort Suites Chicago, IL- Daniel Grajdura
Crowne Plaza St. Louis Downtown, MO – Chris Barr
Drury Hotels USA- Maggie Schuh & Sharon Hooks
Hampton Inn St. Louis Chesterfield, Hampton Inn & Suites St. Louis, MO- Lee Ann Howlett
Hard Rock Hotel Chicago, IL- Carol Bader
Holiday Inn Chicago Mart Plaza River North, IL- Daisy Fuentes
Holiday Inn Columbus Downtown Capital Square, OH- Sandi Hill
Holiday Inn Country Club Plaza Kansas City, MO- Stephanie Porter
La Quinta Inn & Suites St. Louis Airport-Riverport, MO – Debbie Loftus
Sheraton Grand Chicago, The Westin Chicago River North, IL- Zully Soriano
Westin Cincinnati, OH- Kaylee Wright
U.S. – West:
Ayres Hotel & Suites Costa Mesa, CA- Kara Kellogg
Crowne Plaza Los Angeles Airport, CA- Channa Perera
Crowne Plaza Seattle Downtown, WA- Beth Harwood, Cory De Rooze and Rodney Clay
Doubletree by Hilton Campbell Pruneyard Plaza, CA- Audrey Jablonszki-Hahn and Christina Fortune
Downtown Grand An Ascend Hotel Collection Member, NV- Shavon Mclean
Hampton Inn Tropicana, NV- Leah Harrison
Holiday Inn Express in Downtown Salt Lake City, UT- Ashley Brock
Hotel Angeleno, CA – Jackie Vargas
Hotel Diva & Hotel Union Square, CA- John Sibley
Hyatt House Seattle/Downtown, WA- Sam Samuelson
Hyatt Regency Los Angeles International Airport, CA- Shavonna Cadle
New York New York Hotel & Casino, NV- Dan Meisler
Portland Marriott City Center, OR- Jessica Fox
Quality Inn Placentia, CA- Jackie Parra
Red Lion Hotel Bellevue, WA- Craig Troxell, Matthew Webster and Toyin Fofana
San Diego Marriott La Jolla, CA- Heather Farnam
Sir Francis Drake a Kimpton Hotel, CA- Lauren Vojvoda
Stratosphere Casino Hotel & Tower, NV- Leslie Holland
Treasure Island Hotel & Casino, NV- Shelly Ryser
Wyndham Anaheim Garden Grove, CA- Jeremy Yujuico
Wyndham San Diego Bayside, CA- Jill Marie Vaquera
U.S. – Hawaii:
Courtyard by Marriott Waikiki Beach, HI- Brent Umehira and Darlene Plamenco
Royal Garden at Waikiki, HI- Samantha Monet
Shoreline Hotel Waikiki, HI- Rick Oberdahlhoff
About HotelPlanner & Meetings.com
HotelPlanner.com is the leading provider of online services in the global group hotel marketplace. Listed among the top 50 travel sites in the world and ranked number one in group travel, HotelPlanner.com is on track to produce nearly 1 million group leads this year, and is providing group hotel booking services to over 3,000 groups per day. The company's robust technology and automated rate checkers provide customers with the guaranteed lowest available rates from a network of more than 100,000 quality hotel partners worldwide, making it easier and faster to book hotels for any corporate and leisure event. With its new eRFP group booking system, "Book-in-Block" and licensing technologies, HotelPlanner.com continues to advance the group booking process online for direct clients, market leading affiliates and hotel partners worldwide.
The company owns and operates Meetings.com, a premier site that provides information, planning and booking services for meetings and hotel stays for corporations, associations and business-to-business enterprises. By combining advanced technology with a highly experienced staff of professional meeting planners and travel specialists, Meetings.com quickly finds clients the perfect space at the best price for meetings large and small.
Customers can visit HotelPlanner.com online at http://www.hotelplanner.com, or on its mobile app, which provides users with the lowest, real-time hotel rates and availability, detailed hotel information and an easy booking tool right from the palm of their hand. They can also follow HotelPlanner.com on Facebook, Instagram, Twitter, Google+, YouTube and its Everything's Better Together blog.
Founded in 2002 by CEO Tim Hentschel and CIO John Prince, the company provides 24/7 customer service and has offices in London, England (European Headquarters), Hong Kong (Asian Headquarters), West Palm Beach, FL (USA Headquarters), and Las Vegas, Nevada.
HotelPlanner.com is proud to provide hotel reservation services to valued clients within the sports team and university, corporate, and government organizations. The company's Pro Sports Team clients most notably include Matchroom Sport, San Diego Chargers, Washington Redskins, St. Louis Rams, Professional Bowlers Association, European Professional Golfers (EuroPro), Super League (Rugby), AFC Wimbledon, Millwall F.C., and Queens Park Rangers F.C. In terms of college travel, Universities such as Texas A&M, New Mexico State, Saint Mary's College, Bradley University, University of Reno-Nevada, University of Illinois-Chicago, Northeastern University, Cal Poly, and California State University Northridge use HotelPlanner to negotiate their group travel and recruiting stays. Corporations such as CROMPCO, Siemens,Ho Jackson Motor Sports, National Grid, Chicago Bridge & Iron, Publix, and Servpro and Government clients such as the State of Mississippi, Government Services Agency, US Marines-Camp Lejeune (Group), and US Communities also utilize HotelPlanner.com as their hotel procurement provider to negotiate hotel rates, book hotel reservations and provide excellent service year-round.