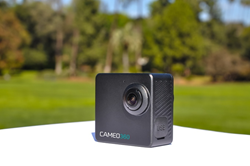 Unlike the many high-quality cameras on the market today, the CAMEO360 is less expensive, less cumbersome and is a lot more convenient to carry around.
LOS ANGELES (PRWEB) May 18, 2017
Flick Labs Inc., which created the world's smallest dual lens 360° 4K active camera in the CAMEO360 and raised more than $33,000 from backers on Kickstarter, is continuing its crowdfunding campaign on FundThis.com.
Creator Roland Nguyen said the company will continue to offer an early-bird discount to backers as crowdfunding continues for the CAMEO360 – a pocket-size camera that allows users to easily explore their creativity and tell their story through a different lens that also provides users with a trouble-free approach to social sharing and commercial connectivity.
"It was great to see backers support the cutting-edge design of CAMEO360 and its new Flicksee App, which saves content creators from the time-consuming task of shooting with multiple or bulky cameras and the hassle of loading and editing content on multiple sites," Nguyen said. "We expect backers will continue to support our easy-to-use product as we transition to our new crowdfunding platform."
When used in conjunction with the Flicksee App, CAMEO360 allows users to share within the community and eliminate the confusion sometimes caused by sharing on multiple platforms. The app connects CAMEO360 to the user's smartphone while shooting, with allows smartphone screen to be used as a live viewfinder.
"Unlike the many high-quality cameras on the market today, the CAMEO360 is less expensive, less cumbersome and is a lot more convenient to carry around," Nguyen said. "With so many social media channels available, which can prove very time-consuming when it comes to editing videos and managing multiple platforms, we embarked on a solution to this problem and the CAMEO360 was the result."
Product Features for the CAMEO360 Camera include:
Live video preview on Smartphone Screen (smartphone becomes viewfinder for camera)

4K / 24 FPS Video
24 MP Photo
Wi-Fi 5G + Bluetooth 4.0
Live Streaming
Advance Video Stabilization
Ready to View Auto Video Stitching
Expandable Battery Input
Easy Upload and Sharing
Flicksee Social Media Community
Waterproof Case
Motion Time Lapse
VR + Camera Remote Enable
The iOS- and Android-ready simplicity of the Flicksee App make mobile sharing and monetizing nearly effortless.
The Flicksee App features include:

A Community Sharing Platform
Dual Chat Capability
Easy Video Editing Tools
Personalized GIF System
SynCam Video Calling
Monetization/Transaction Capability
For more information about CAMEO360 and the Flicksee app, visit the FundThis Campaign Page and flickseeapp.com.
About Flick Labs, Inc.
The Flick Labs team, led by Roland Nguyen is made up of several creatives and technology innovators from the worlds of business development, engineering and internet content creation. They strive to solve problems, streamline processes and help the users of their products celebrate life. Flick Labs, Inc. is based in Los Angeles. For more information, visit flickseeapp.com.