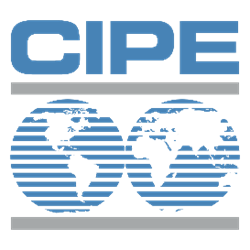 The app will be instrumental in extending essential business education and finance opportunities for small business." CIPE's Al Zoghbi said.
Washington, DC (PRWEB) May 11, 2017
In an effort to increase opportunity for entrepreneurs in Egypt, the Center for International Private Enterprise (CIPE), with support from the World Bank MSME Facility, has created an Arabic-language mobile app called Tamweely. This new program was launched yesterday at a "Meet to Match" exhibition in Cairo.
The goal of the app is to connect financiers to small businesses and entrepreneurs in Egypt seeking start-up funding, as well as to provide business education tools and information about the institutional and legal environment for entrepreneurs and startups.
"This is going to be a big help to entrepreneurs in Egypt," Randa Al Zoghbi, CIPE's Program Director in Egypt, said at the exhibition. "The app will be instrumental in extending essential business education and finance opportunities for small business."
CIPE and the World Bank hope the app will improve access to finance for Egyptian entrepreneurs. The launch event included three core components: financier booths where entrepreneurs could sign up to pitch their businesses and receive feedback; roundtables, led by an established entrepreneur or finance advisor, where participants went through case study exercises; and lastly, the app was available for testing and feedback.
The app is designed to provide a platform to match entrepreneurs seeking finance with banks, non-banking financial institutions, and individual investors seeking partnerships. Tamweely is now available for download in the Apple AppStore and Android PlayStore. It can also be used via the internet here.
Egypt's regulatory environment is undergoing changes to unleash small business and entrepreneurship potential. This app hopes to work towards supporting that transition. Startups and small businesses often cannot meet the requirements of lending, either due to strict regulations, lack of business education, inefficient bureaucracy, or insufficient services at the municipal level.
To develop the app, CIPE convened an advisory board and conducted extensive outreach to entrepreneurs, banks, and other financial institutions throughout Egypt to better identify the expectations of the prospective app users.
For more information on Tamweely, visit Facebook at: https://www.facebook.com/TamweelyApp/, twitter @TamweelyApp, or their website, http://www.tamweely.org. All are in Arabic.