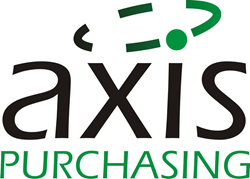 "We continue to grow our areas of coverage to include non-foods... Our latest programs expand those savings to support the care of the facilities needed to serve great food." John
Purcellville, VA (PRWEB) May 16, 2017
Axis Purchasing, a leader in group purchasing services for schools, multi-unit restaurants, hotels, and other foodservice providers, announced an expansion of their services to save money on facility maintenance, equipment, administration and operational needs.
"We continue to grow our areas of coverage to include non-foods. Axis has always saved our members significant money on food purchases. Our latest programs expand those savings to support the care of the facilities needed to serve great food." Quote John Krebs President
The latest programs focus on facilities and maintenance. This includes, HVAC, electricity, plumbing, paint and mechanics — everything restaurants and hospitality operators require. Our service partners drive away pests, stop fires and clean air ducts.
The new Axis administrative programs offer office supplies, secure transport, pre-employment screening and overnight shipping of letters and packages.
Our uniform and laundry programs keep your associates on-trend and professional-looking for front and back of the house uniforms; shirts, aprons, coats, pants and shoes. We even keep your customers comfortable with laundry for linens, sheets and towels so your properties shine.
Smallwares, equipment and disposables are available from great partnerships with unparalleled savings! Innovative solutions for everything from knives and forks to paper products and glassware.
For furniture, fixtures and kitchen equipment, Axis Purchasing offers a large selection of premium tables and seating, in-stock and ready-to-ship. Kitchen equipment includes ranges, freezers, refrigeration, ice machines; even technology and wireless services.
About Axis Purchasing:
Axis Purchasing was founded on a simple premise. Busy foodservice operators don't have the time and resources to efficiently procure food and supplies, manage supplier relationships, costs and rebates, and stay abreast of continuous changes in markets and products. Axis found a way to handle those details for them while saving them money. A lot of money.
In fact, today our group purchasing power exceeds $20 billion. That leverage combined with distribution and operational expertise has enabled us to provide unmatched support—maximizing manufacturer rebates, reducing invoice costs, and providing up-to-date market and product insight. Put simply, we guarantee maximum value not cheap products.