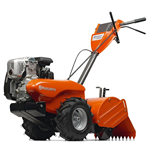 While many sites list their versions of the best rototillers, we share what real online shoppers think are the best.
Bolingbrook, Illinois (PRWEB) May 11, 2017
Tillers Direct released its Best Tillers of 2017 to help shoppers choose the perfect tiller.
The online rototiller ratings and reviews site provides live-updated rankings for more than 60 rototiller models, and it publishes more than 1,400 tiller reviews from real customers who shop the site.
Tillers Direct uses a custom algorithm that generates a specific letter grade for each tiller based on shoppers' feedback, providing the most comprehensive 2017 rototiller rankings available.
"While many sites list their versions of the best rototillers, we share what real online shoppers think are the best," said Robert Valenzano, product expert at TillersDirect.com. "Confidence is important for online shoppers, so we try to provide the most helpful and trustworthy information we can to help shoppers make an informed decision."
According to Valenzano, Tillers Direct's lists are the best source for 2017 garden tiller rankings for these 3 reasons:
1. Three Lists in One
People are unique, which means they have view points on what the word "best" means. Tillers Direct's lists can be sorted in three different ways. Visitors can sort the tillers by best selling, top-rated, or expert recommended models. Once sorted, the user can then easily filter the results to narrow the selection even further.
Tillers Direct didn't just create one list for all tillers though. The site actually created separate lists for each different style of tiller, ranging from electric cultivators to burly rear-tine tillers.
2. Real-Time
Most best-selling lists out there get updated once a year at best, showcasing discontinued tillers that were popular last year. To bring visitors more value, Tillers Direct updates their lists in real-time, highlighting what's hot and what's popular at any given moment in 2017.
"Not all shoppers agree with the rankings, and that's okay. If someone disagrees with a ranking, they can post their own review and rating of the tiller to influence the ranking in real time," said Valenzano, who works first-hand with the top tiller manufacturers and helps customers choose the best tillers for their needs.
3. Free
TillersDirect.com doesn't require you to sign-up for a membership or subscription. The retailer is simply aiming to educate shoppers with free information, in order to help them pick the perfect rototiller.
"Our goal is to help people make an informed decision so they choose the tiller that's perfect for their needs, so we offer as much helpful advice and up-to-date information as possible for free," said Valenzano.