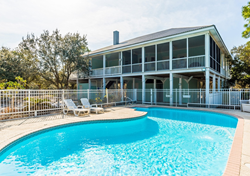 With Southern's summer beach home sale, the multi-generational family vacation is more attainable than ever.
Destin, FL (PRWEB) May 12, 2017
The multi-generational family vacation has boomed in recent years, with small, family getaways expanding to include grandparents, parents, and children. Southern Rentals & Real Estate is proud to accommodate these families by offering Coastal Alabama and Northwest Florida vacation homes—and this summer, they're on sale.
From cozy cottages to luxury homes with private pools, there's no better place for a getaway than the Gulf of Mexico. Southern's Gulf Coast vacation homes are ideal for catering to the needs of each family member, providing privacy, comfort, and amenities. Whether a single story home that sleeps eight, or a multi-story home that sleeps more than 30 is required, Southern is proud to accommodate groups of all sizes.
One of the fastest growing areas of travel, the multi-generational vacation boasts numerous advantages. First and foremost, families enjoy quality time together in a relaxed setting. There's no better place than the sugar white sand and emerald water of the Gulf of Mexico to foster family fun. Not only do the internationally acclaimed beaches provide recreation and relaxation, dining, shopping, and entertainment attractions line the coast.
What's more, the multi-generational vacation encourages family members to diversify their vacation experiences. Younger members often rally for more adventurous activities such as stand-up paddle boarding or parasailing, whereas, older members lean toward a sunset cruise or concert on the beach.
The gateway to these experiences—and the memories they produce—is the perfect vacation home. Southern's beach homes offer multiple avenues for family fun. From game rooms and in-home theaters, like that of Casa Oceana in Destin, to beachfront homes with floor-to-ceiling views, like Escapade in Pensacola Beach, the ideal accommodation is the foundation of a successful vacation.
Other perks include the ability to break into small groups for date night or kids' activities, plus, the financial advantage of splitting vacation costs. With Southern's summer beach home sale, the multi-generational family vacation is more attainable than ever.
Established in 1995, Southern Rentals and Real Estate is one of the most sought-after providers of vacation rentals in Northwest Florida and Coastal Alabama. Locally owned and operated by two sets of brothers, Brad and Mike Shoults and Kevin and Kerry Veach, and Susan Carleton, Southern represents nearly 1,400 vacation rentals, 1,000 long term rentals, countless real estate opportunities and more than 40 associations along the Gulf Coast. The Southern family of companies includes Southern Vacation Rentals, Southern Residential Leasing, Southern Real Estate Sales, RE/MAX Southern, and Southern Association Management. For more information, visit GoSouthern.com.