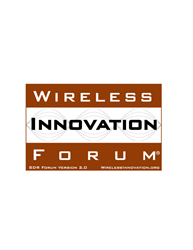 RADWIN joined the Wireless Innovation Forum to become an active member of the CBRS community; contributing from its rich knowledge of innovative developments for the high capacity fixed wireless market, while aligning with the unique CBRS requirements
Washington, DC (PRWEB) May 12, 2017
The Wireless Innovation Forum (WInnForum) a non-profit international industry association dedicated to driving the future of radio communications and systems worldwide, announced today the addition of new member RADWIN, an international broadband solutions provider.
"RADWIN joined the Wireless Innovation Forum to become an active member of the CBRS community; contributing from its rich knowledge of innovative developments for the high capacity fixed wireless market, while aligning with the unique CBRS requirements," said Mr. Sharon Sher, President and CEO of RADWIN. "Maintaining its leading reputation, RADWIN is working on delivering a uniquely versatile, high performance, Point-to-MultiPoint CBRS compliant solution based on its Bi-BeamTM beamforming technology, to expand the fixed wireless solution portfolio for its US Carrier and ISP customers."
With international member organizations including radio manufacturers, their partners and suppliers, acquisition authorities, service providers, operators, standards bodies, researchers and regulatory agencies, the Wireless Innovation Forum provides a singular venue to advance wireless system and spectrum sharing technologies, to educate and influence decision makers at all levels of the wireless value chain, and to drive changes that will address emerging wireless communications requirements through the enhanced value, reduced total life cost of ownership and timely delivery of standardized families of products, technologies, and services. To learn more about our committees and projects visit http://www.wirelessinnovation.org/projects-committees.
Supported by platinum sponsors Google, Motorola Solutions, Leonardo and Thales, WInnForum has working groups focused on advanced technologies, the SCA and spectrum sharing. Visit http://www.WirelessInnovation.org to learn more. Individuals or organizations wishing to participate in WInnForum Working Groups should contact Lee Pucker at Lee.Pucker@WirelessInnovation.org.
About RADWIN
RADWIN is the market leader in high-performance Broadband Wireless Access (BWA), dedicated to satisfying the needs of service providers across more than 170 countries. With technological innovations that push the limits of wireless connectivity to enable fiber-like services, RADWIN is regarded by Tier 1 carriers in the US and ROW as the trusted partner for wireless broadband. RADWIN is also committed to leveraging its experience in the CBRS band, to help service providers thrive in an ever-advancing digital age.
About the Wireless Innovation Forum
Established in 1996, The Wireless Innovation Forum (SDR Forum Version 2.0) is a non-profit mutual benefit corporation dedicated to advocating for spectrum innovation, and advancing radio technologies that support essential or critical communications worldwide. Members bring a broad base of experience in Software Defined Radio (SDR), Cognitive Radio(CR) and Dynamic Spectrum Access (DSA) technologies in diverse markets and at all levels of the wireless value chain to address emerging wireless communications requirements. To learn more about The Wireless Innovation Forum, its meetings and membership benefits, visit http://www.WirelessInnovation.org.