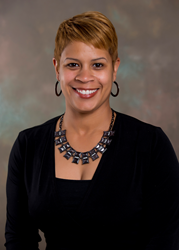 Giving back — to our employees and to our community — is a top priority for Advance Financial.
(PRWEB) May 16, 2017
Being a responsible corporate citizen by giving back to the communities it serves is central to Advance Financial's mission, which is why the Nashville-based financial services company created the Advance Financial Foundation in 2014. Advance Financial took the next step in community engagement with Vice President of Community Outreach Shantrelle Johnson being named one of 2,000 people globally to obtain the Corporate Citizenship Practice Certification.
"Giving back — to our employees and to our community — is a top priority for Advance Financial, so when Shantrelle proposed the idea of the certification, we were all in," said Tina Hodges, Advance Financial's chief executive and chief experience officer. "We are thrilled about how this national recognition of Shantrelle's expertise will contribute to the important work of the Advance Financial Foundation."
As a board member and the current treasurer for the Volunteer Tennessee Commission, Hodges believes corporations must take a leadership role in promoting volunteerism and community service initiatives and partnerships throughout the state. Johnson's elite certification helps Advance Financial to understand and meet the community needs on an even deeper level.
With Johnson at the helm, the Advance Financial Foundation supports philanthropic community efforts in three areas: education, health and employees in need of assistance. The Foundation has partnered with more than 35 organizations throughout the state, including the JDRF of East Tennessee and Second Harvest of East Tennessee.
Johnson earned her Corporate Citizenship Practice Certification from Boston College, completing classes and training sessions across the country over the past two years. Training included courses on designing a corporate citizenship strategy, measuring and evaluating corporate citizenship initiatives and the fundamentals of communication. Approximately 2,000 people throughout the world have completed Boston College's Corporate Citizenship Practice Program since it began in 1985.
The Corporate Citizenship Practice certification will serve Johnson in her role as vice president of community outreach, aiding her in audience identification, channel selection, message development and strategy for the Advance Financial Foundation. The certification was fully funded by Advance Financial.
"I'm honored to receive this certification, as Boston College boasts one of the top programs in the country for corporate citizenship. And I'm grateful to have reached this milestone with the support of my Advance Financial family," says Johnson. "It is a huge step toward making the Advance Financial Foundation the best it can be."
About Advance Financial
Advance Financial, founded in 1996, is a family owned and operated financial center based in Nashville, Tenn. The company currently operates more than 70 locations throughout Tennessee and employs more than 700 local representatives. By focusing on a wide variety of financial services – including wire transfer, bill payment, unlimited free money orders and FLEX loans – they are committed to building long-lasting, strong relationships with every customer. Advance Financial recently earned an A+ rating from the Better Business Bureau and was named to the Inc. 5000 list of the fastest-growing private companies in the country for the fifth year in a row.