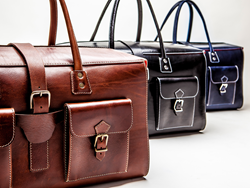 "While most leather bags look the same and have no structure, Meqnes combines the aesthetics of old-school men's travel bags, with the sleekness of modern-day fashion."
Warsaw, Poland (PRWEB) May 10, 2017
The Meqnes team launched their Kickstarter campaign today and is looking to raise a total of $49,500 to help bring the Meqnes weekend bag to life. The full-grain calfskin leather bag is vegetable-tanned for a unique and beautiful color that will last the sophisticated, traveling man a lifetime.
The ultimate gift for the man who is always on the go, Meqnes bags make a statement while maintaining comfort with dual handles and straps for convenience. While most men's bags are made of poor-quality leather that doesn't hold shape, Meqnes' materials can withstand frequent travel and will hold up for everyday use. The Meqnes team has worked hard to eliminate the middleman and sources bags directly from the workshop straight to the customer, which, in return, will keep the cost of these bags down to a minimum.
"Factory-made leather products have started to replace the handmade Moroccan tradition. The handmade tradition is dangerously close to dying, and this is our chance to bring it back to life," said founder Kamal Jahid. "While most leather bags look the same and have no structure, Meqnes combines the aesthetics of old-school men's travel bags, with the sleekness of modern-day fashion."
Meqnes, a young, Poland-based company with a focus on craftsmanship, stays true to Morocco's deep history of handcrafting leather products, specializing in creating unique, stylish handbags. No two Meqnes bags are stitched the same so that each weekend tote is different in its own way. Meqnes bags measure 24.4 x 11.8 x 12.6 inches, which serve as the perfect size for a weekend's-worth of attire.
Early adopters can purchase Meqnes bags in Bullet Black or Sahara Brown on Kickstarter for $495, which is $305 less than the market retail value. For more information about Meqnes bags, visit http://bit.ly/MeqnesKS.
ABOUT MEQNES
Headquartered in Warsaw, Meqnes offers a new line of high-quality, handmade leather products with a sturdy, stylish look and unique design. Each product showcases authentic Moroccan craftsmanship at its best while also providing lasting durability. For more information, visit http://www.meqnes.com.