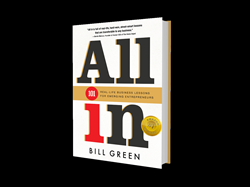 Wesley Chapel, FL (PRWEB) May 11, 2017
Serial entrepreneur and now author Bill Green is overwhelmed by the praise already being given All In: 101 Real-Life Business Lessons for Emerging Entrepreneurs. "I'm honored by the kind words offered up by so many industry giants," said Green. "And I'm particularly humbled by the praise from so many of our nation's leading professors in entrepreneurship because I want to inspire entrepreneurs of all ages and levels of experience to take up the challenge of a small business with passion and joy!"
In All In: 101 Real Life Business Lessons for Emerging Entrepreneurs, Green uses his own impressive business achievements (and his few fiascos) to provide the reader with the practical tools needed to launch that Big Idea or improve their existing business. In his unique, humorous, and impassioned style, Bill explains, step by step, what it took to leverage his flea market business into a small hardware store, and then morph that store into Interline Brands, a distribution empire.
Here's what a few of the experts are already saying:
"All In is full of real-life, hard-won, street-smart lessons that are entirely applicable and transferable to any business." –Bernie Marcus, Founder, Former Chairman & CEO The Home Depot
"The idea of guiding a company from the minor to the big leagues of business can be exhilarating, but also daunting without a detailed set of directions. All In provides those directions with humility, comedy and street smarts." –John Calapari, Basketball Hall of Famer, National Championship Coach of the Kentucky Wildcats and NY Times Best Selling Author
"Bill Green takes readers on his delightful, humorous, and sometimes painful journey as a serial entrepreneur. Through engaging stories revealing valuable lessons that can't be learned in textbooks, aspiring entrepreneurs will discover that starting a business is the hardest work they'll ever do, but doing the work will reward them with a lifetime of opportunities." –Kathleen Allen Ph.D., Professor Emeritus, Lloyd Greif Center for Entrepreneurial Studies, Marshall School of Business, University of Southern California
To read more expert opinions about All In, visit http://bgreenauthor.com/reviews/
About the Author
William S. "Bill" Green is the straight-talking, edgy, no-holds-barred serial entrepreneur, who has built multiple businesses during his 40-year career. Green is best known for "bootstrapping a startup" before anyone knew what the word "startup" meant. He propelled his first company, Wilmar Industries, from a flea market table to one of the largest industrial distribution companies in the U.S., now known as Interline Brands.
Photos/interviews available on request or visit: http://bgreenauthor.com/media/