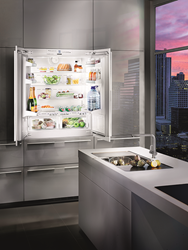 The one appliance in the home that everyone touches multiple times a day, every day, is the refrigerator. It's the focal point of your kitchen; it's the hardest working appliance in your home," Josef Steigmiller
Miami, FL (PRWEB) May 11, 2017
Liebherr Appliances, one of the world's leading manufacturers of premium refrigeration for more than 60 years, offers the ultimate sleek, efficient, and German-engineered gift this Mother's Day. And it's not a new car! Liebherr's HCB 2062 lets homeowners select the style and height of the door panels of the refrigerator and freezer to match kitchen décor, while Door-on-Door technology allows for easy installation and seamless integration to fit any kitchen style.
A spring remodeling must-have, Liebherr's wide range of refrigerators and freezers are the highlight of every modern kitchen. From fully integrated, freestanding, and wine refrigeration, Liebherr gives Moms the best features and technology to keep food fresher for longer, with a timeless design to match any kitchen décor.
"The one appliance in the home that everyone touches multiple times a day, every day, is the refrigerator. It's the focal point of your kitchen; it's the hardest working appliance in your home," says Josef Steigmiller, Divisional Director of the Refrigerators and Freezers Division of Liebherr USA, Co. "When Mom has a Liebherr, she's ensuring that the entire family is getting the most valuable vitamins and nutrients from their favorite foods, all while enjoying an incredibly efficient and versatile refrigerator."
Designed to Match Mom's Dream Kitchen
Liebherr's fully integrated products are perfect for any custom kitchen, with the option of having the appliance completely hidden within custom cabinetry. High-end performance and SuperQuiet silent operation let Mom rest easy knowing the kitchen is always running like a smooth-oiled machine, while quiet enough for a spa day at home.
The engineering on the inside of a Liebherr appliance is every bit as sophisticated as the design on the outside. Interior features like SoftSystem ensures that the door automatically closes gently, even when the door is fully loaded. A well-organized interior, illuminated with cool LED lighting, offers greater capacity and more storage flexibility, along with easy viewing of the family's favorite foods.
BioFresh – Spend More Time with the Kids, and Less at the Grocery Store
At the core of Liebherr refrigeration are technologies that keep food fresher longer, which translates to money saved at the grocery store, and overall less waste. Liebherr's patented BioFresh technology provides the perfect climate for keeping foods fresher up to three times longer than conventional refrigerators. With the temperature maintained just above freezing, and at an ideal humidity level, fruits, vegetables, meat, fish, and dairy products retain their crucial vitamins and minerals, as well as flavor and texture, for far longer.
Energy Efficient and Eco-Friendly
Liebherr appliances offer solutions that contribute to improving the environment, and help consumers save energy. An industry trailblazer in green manufacturing for decades, Liebherr has a long-standing history of responsible production initiatives that enhance freshness, improve ease of use, restrict the use of hazardous substances, and save even more energy. All Liebherr residential refrigerators, freezers, and wine cabinets are ENERGY STAR® rated, while select models have been given the ENERGY STAR® 'Most Efficient' designation for seven consecutive years in a row.
A Liebherr updates the kitchen without having to take on an entire remodel, adds value to the home, and provides families with an innovative, energy efficient, and European-designed luxury appliance.
About Liebherr Appliances
Driven by innovation and characterized by sophisticated, elegant design, the family-owned and German-based Liebherr Appliances brings the best of European cooling to the Americas. With more than 60 years of expertise in premium refrigeration, Liebherr Appliances combines quality, design, and innovation to offer high-end refrigeration solutions for the modern home or business. Visit home.liebherr.com to learn more about Liebherr's full product line of freestanding, built-in and fully integrated refrigerators and freezers, wine, and humidor cigar storage units.