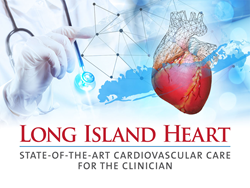 Melville, NY (PRWEB) May 12, 2017
In the United States, cardiovascular diseases claim more lives than all forms of cancer combined. Currently, more than 1 in 3 adults live with one or more types of cardiovascular disease. The Long Island Heart: State-of-the-Art Cardiovascular Care for the Clinician conference welcomes national and international experts in the field of cardiovascular care to a 2-day meeting. Attendees will have an opportunity to interact with these experts, access critical updates, and evaluate the emerging advances in the diagnostics and therapeutics for cardiovascular disease.
The conference will be held at the Melville Marriott Long Island Hotel in Melville, NY on Friday, May 19, 2017, and Saturday, May 20, 2017.
"We designed The Long Island Heart: State-of-the-Art Cardiovascular Care for the Clinician conference to meet the educational needs of the practitioners across the spectrum of care of patients with heart diseases," said Javed Butler, MD, MPH, MBA, FACC, FAHA. "Specialist and generalist doctors, nurses, and other clinicians involved in the care of these patients will have access to critical updates and international experts. Our goal is to improve care for cardiovascular patients in Long Island."
The 2-day symposium features several Keynote discussions and a series of presentations that cover the spectrum of cardiovascular disease including:

Advances in heart failure prevention and management
Aortic stenosis: timing and type of intervention
Mitral valve repair, replacement, and percutaneous approaches
An update on mechanical circulatory support
New lipid goals and strategies to achieve them
State of the art echo imaging
Hyperkalemia and the failed promise of RASSi therapy
Ablation of persistent atrial fibrillation
Optimal antiplatelet therapy in cardiovascular disease
Cardiac interventions in chronically anticoagulated patients.
Conference attendees will enjoy complimentary breakfast, lunch, and snacks, as well as opportunities to view exhibitor displays.
There is no fee for this educational activity. For more information or to register, visit: http://www.longislandheart.org.
The Long Island Heart: State-of-the-Art Cardiovascular Care for the Clinician is endorsed by the Heart Failure Society of America and the New York Chapter of the American College of Cardiology. The meeting is approved for 11.75 AMA PRA Category 1 Credits™ for physicians and 11.75 hours of participation for continuing education for allied health professionals.
***