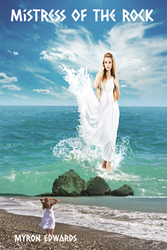 Virginia Beach, VA (PRWEB) May 12, 2017
RockHill Publishing LLC proudly welcomes Myron Edwards to its family of authors and the revised edition of his first fantasy novel, Mistress of the Rock. Due out May 31st, the modern fantasy will be available directly from RockHill's website http://www.rockhillpublishing.com and all other locations where fine literature can be found.
"Mr. Edwards comes to us from Cyprus, the Island of Love, and the birthplace of the goddess of love, Aphrodite. The site called Petra Tou Romiou is a place of legends and myth, a wonderful attraction to the island and Edwards' Mistress of the Rock was first published in 2008 by a Cypriot publisher where it captured the imagination of the local population," said Mr. Hill. "Regrettably, financial crisis hit the island and the publisher went into liquidation, leaving Mr. Edwards in search of a new outlet for his work. That is where we come in, his story fits well with our brand of fantasy and after some careful editing by Editor-In-Chief Athina Paris, Mistress of the Rock is ready for a rebirth on the worldwide stage."
Myron Edwards was born in 1952 to Welsh parents and grew up in Essex, England. He had a successful thirty-year career in the travel industry before turning to freelance writing for the BBC. He wrote for The Two Ronnies, Week Ending, and The News Huddlines. In 2005, he moved to Cyprus with his wife and three children where the lore of the goddess led him to write The Mistress of the Rock.
His fantasy novel is a unique mixture of modern-day life drama with an old-world mystery. Richard Cole, the protagonist, struggles with the effects of a soldier's PTSD from his deployment in the Gulf War and the possibility of his prayers being answered by the ancient goddess of love, Aphrodite. Commingling the present and past has unforeseen consequences not only for Richard's family but also on his health.
Mistress of the Rock is the type of fantasy that RockHill Publishing is excited to add to its catalogue and the May 31st release date coincides with RockHill Publishing's participation in the BookExpo America in New York, giving the book and Mr. Edwards the exposure they deserve.
J L Hill
RockHill Publishing LLC
http://www.rockhillpublishing.com
For more information, email jlhill(at)rockhillpublishing(dot)com